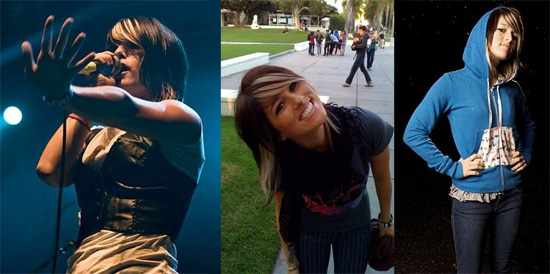 In 2007 the band Hey Monday was formed and Cassadee Pope was named the lead singer. Her unique punk style of singing is matched by her punk style of dressing. Because of the popularity of the band and Pope as a singer there are many young women that are into Hey Monday's style of music that wish to dress the same way as Pope.
Dressing like Pope is not a hard thing to do and simply requires the most basic of clothing. Here are some ways that you too can go after the Cassadee Pope look:
•    Jeans: Pope is almost always seen in jeans. The jeans that she wears are either very tight or are skinny jeans which are tight by their very nature. Typically she likes darker colors so when buying your jeans go with dark blue, gray, or black. When just out and about and sort of incognito, she can be spotted wearing nothing more than a pair of jeans, a white t-shirt with a simple saying on it and a pair of sunglasses. When going casual you too can easily emulate this look.
•    Shirts: Pope's shirts are always t-shirts but she will also always top them off with some other layer. Her t-shirts are typically a lighter color of green or even blue and are topped off with a dark colored vest or even a jacket. Sometimes she will wear a t-shirt with her vest buttoned up and still others she will have the vest unbuttoned. It is all in her mood. Her vests are almost always purple and this seems to be a favorite of the punk rock singer.
•    Shoes: Pope is almost always seen in classic Converse tennis shoes. Sometimes she wears high tops and other times she wears low tops but they are almost always Converse brand. Leave the heels and flip-flops at home because Pope never wears them.
•    Accessories: Pope will sometimes be seen wearing scarves and other times she will be sporting a neck tie that is tied loosely. As for jewelry she only usually goes with bracelets, and lot of them. She also wears earrings from time to time though nothing too flashy.
•    Hair and Make-up: Poe's hair is short and sassy. To emulate her hair style you have to have sweeping bangs and you also need to have your hair be two different colors. Pope is known for having the majority of her hair be a darker color but have part of her bangs and bottom tips of her hair bleached blonde. If you want to complete the look, do the same. She goes light with her make-up as should you and never go with a dark or bright color of lip stick when applying yours.
Though she is a rising star, Pope always seems to stop and talk with the fans and is known for signing autographs and even takes photos with her fans. To totally be like Pope you too will have to take time out when others are asking for your attention.