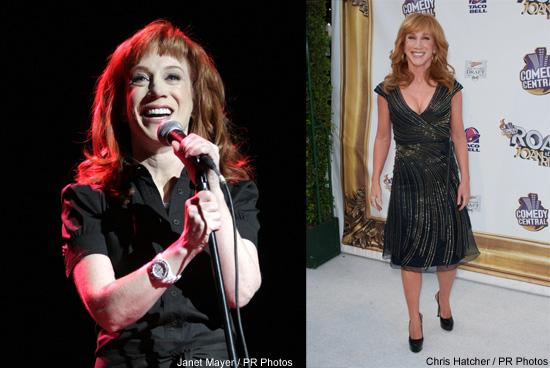 Kathy Griffin is a self proclaimed D-List celebrity though her fans would suggest otherwise. The comedian is always finding herself on the opposite end of the best dressed list and is constantly criticized for her sense of fashion. Truth be told though, Griffin actually dresses more like the average person than most celebrities these days. For this reason her ensemble is extremely easy to find and if you want to dress like Kathy Griffin it is a task that is more than doable.
When you think about dressing like Kathy Griffin you should think simplistic. Here are some ways to achieve her ultra easy and sometimes whacky look:
•    Hit the department stores: Kathy Griffin stays true to her claim that she is a D-List performer and appears as though she shops where the average Jane shops. Almost all of her fashions are ones that can be found with ease at your local department store. No need to go to a specialty boutique with Griffin's look.
•    Pants suit: Griffin is often seen in one of her almost famous pants suits. To emulate this go with a pants suit that is lighter in color and that has a double breasted jacket. Be sure that the pants suit is not too tight as this will ruin the illusion. Finish it off with a pair of sensible high heels.
•    Casual look: Griffin knows how to get casual as well. She often wears jeans and a t-shirt with a cozy pair of white sneakers. If you want to get really creative here you can get a vest to wear or even a nice jacket or sweater.
•    Formal wear: When this D-Lister hits the red carpet she does it in style. She likes to wear form fitting dresses that are made of a silky and sheer material. Feel free to go wild with colors here as Griffin likes to wear many shades of reds, blues, and even pinks. Finish off the dress with a pair of open toe high heels that match the color of the dress.
•    Show your stuff: To further emulate Griffin it is important to show off our cleavage. Griffin like to show how well endowed she is and is often wearing low cut shirts, skirts, and dresses that show a good deal of herself.
•    Assessors: Griffin either goes all out in this department or not at all. If she is wearing accessories they are big and gaudy. She will wear big necklaces and bracelets, and even big earrings.
•    Hair and make-up: Griffin usually keeps her hair down and keeps it curly. You can add to the look by coloring your hair the same fire red as hers is. As for make-up, go all out. Griffin wears a lot of make-up but still looks good when it is all said and done.
All that remains is for you to practice your jokes and start hanging out with some D-List talent and your wish to dress and be like Kathy Griffin will come true.