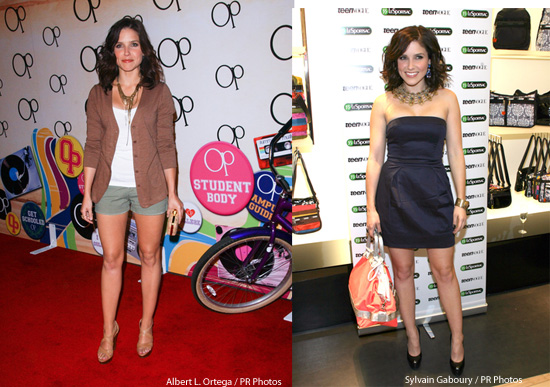 For the past few years there has not been another actress that has gained more notoriety and clout than Sophia Bush. Her recent roles in the movies include The Hitcher, John Tucker Must Die, and The Narrows. Her career is getting so successful that in a 2009 issue of Forbes magazine she was listed in the top 'Most Bankable' starts due to the amount of money that she makes per film. Her booming success has gained her a following of younger women who all want to dress like her.
When it comes to the style that Bush portrays there is little she cannot pull off. Here are some of the ways that you too can look like Sophia Bush:
•    Dresses: Bush likes to wear a variety of different dresses on a rather regular basis. These dresses range in color from light to dark, but always are one solid color. One of the things about Bush is her incredible sense of accessorizing. With a white dress she will wear black leggings. With a dark gray skirt and a nice white dress shirt, she will wear a very professional looking blazer. Still other times she will simply wear a nice form fitting sleeveless dress and accessorize with nothing at all. Go wild and widespread and stick with what you think looks best on you.
•    Girl next door: This look shows just how everywoman Bush can actually look. To pull off this look for yourself you only have to wear a nice form fitting pair of jeans and a nice short sleeved shirt that shows your stomach and you are all set.
•    Formal: This is Bush's time to shine. When going formal she goes all out. She likes to wear form fitting dresses that are a bit on the short side and that are typically made of a shiny material that is silver or some other attention grabbing color. When choosing your dress for your big night out be sure that it is not a loose fitting dress but don't go tight either.
•    Shoes: Can you say heels? It seems that no matter what she is wearing Bush has heels on her feet. Her favorite type of heel is the open-toe style and more times than not she matches her shoe color with that of her dress.
•    Accessories: When going all out and formal, Bush like s to go big with the accessories. To imitate this go with bigger earrings, a big necklace, and some flashy bracelets. She also likes to carry a purse with her but the purses she owns tens to be on the small side.
•    Hair and make-up: Bush likes to wear her hair down for the most part and seems to have some extra body and bounce to it. Accomplish this by putting in some body defining product into your hair as soon as you get out of the shower, before you dry your hair. When it comes to your make-up plan on spending some extra time as Bush goes for the gusto in the make-up department. Feel free to go with a darker color for your lips but don't go too dark as that will only give you the appearance of a Goth girl.
While you may not get on the Forbes lists, you will turn a few heads when you accurately dress like Sophia Bush.