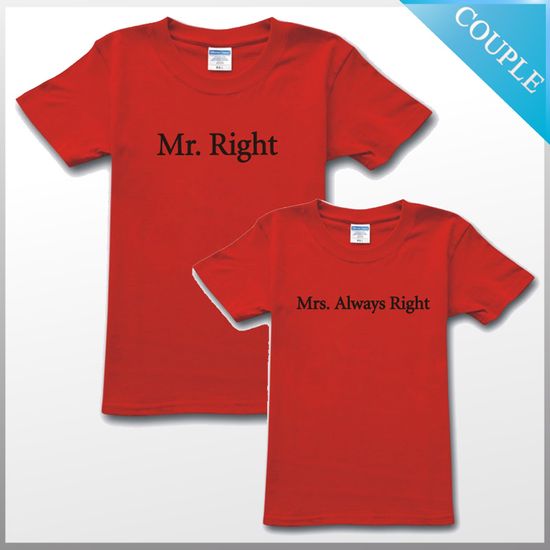 Matching couples t-shirts have become extremely popular, particularly in China and other Asian countries. Proud couples who want to display their love for each other wear couples t-shirts for many occasions. Here are some places you can show off those cute matching shirts.
At the rehearsal dinner. Wearing couples t-shirts at the rehearsal dinner is a fun way to show your personality and relax a bit before the big day. It will also help those relatives you haven't met to identify who's the bride and who's the groom. Shirts that simply say "The Bride" and "The Groom" will do, or try these t-shirts featuring two intertwined hearts.
At your wedding. If you're a couple with a sense of humor and want to break the tension typically associated with a wedding (or you just don't have the time and/or money to spend on formal wedding attire), matching couple t-shirts are the way to go. Try a tuxedo t-shirt for the groom and a wedding gown t-shirt for the bride. To create a truly custom look, have your names and wedding date printed on the back of your shirt. The tuxedo t-shirt/wedding gown t-shirt combo could also be a fun choice if you're guests at a casual wedding.
At your second wedding. You already endured the pomp and circumstance of a big first wedding. This time around, why not have some fun? Dress in a tuxedo t-shirt and a matching bride t-shirt, and you won't even have to change before the party that night. If you have attendants, let them in on the fun too.
On your honeymoon. The love is new, the excitement of the wedding is still palpable and you want the whole world to know that you're in love! A honeymoon is one of the most popular times to wear matching t-shirts as a couple. We like the matching "We Did" t-shirts at Zazzle.com featuring a cute cartoon wedding couple. Shelf Life offers a selection of t-shirts featuring a honeymoon theme.
On a date. So you shouldn't give your date a matching t-shirt on the first date (or the second or even the third) or you risk looking psycho. But if you're a steady item, matching t-shirts can be a fun way to let everyone know who you are with.
At a nightclub. Keep the sharks at bay by wearing matching t-shirts!
At parties. Matching couple shirts are the perfect get-up for a party. You'll stand out in the crowd, and you're sure to get lots of comments from men and women alike about how cute you look together. Best of all, all the other girls will know that your guy is taken (and vice versa)!
To a concert. If you're both fans, why not wear matching t-shirts to the concert? Double the fun!
Anywhere there will be a crowd. Matching couple t-shirts are not only cute, they can also come in handy if you and your partner become separated. Just ask people if they've seen someone wearing a shirt like yours!
Hanging out at home. Seeing that your special someone is wearing your matching shirt will make you feel closer all day long.