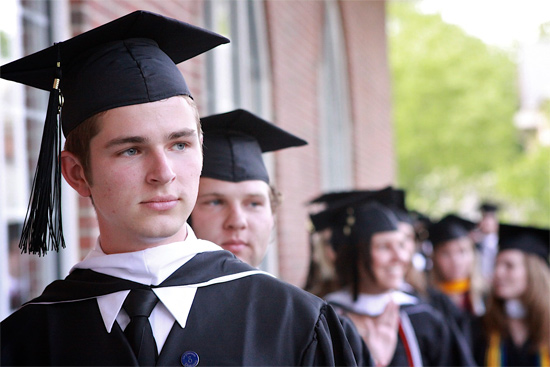 Graduation is an exciting time! After years of study and work, you have finally reached the pinnacle of academic success. When preparing for your graduation ceremony, it's difficult to know exactly what you should wear under that large, shapeless robe. But after all of the time, money and effort you have invested in your education, you should plan to look your best for this recognition of your achievements!
Keep in mind that there is a great deal of tradition behind the wearing of academic dress. The academic dress found at most institutions in the United States and Great Britain is descended from the styles of medieval European universities. While the traditional gowns, hoods and caps are typically seen only at graduation ceremonies, in some universities the ensemble is still worn on a daily basis to denote academic standing or affiliation with certain societies. Generally the more elaborate the ensemble, the more important the wearer.
What is worn underneath the gown depends largely on the institution from which you will graduating. Some older universities specify a certain dress code to be worn under academic ensembles, while other universities and high schools are more relaxed in their requirements. Conservative formal clothing is the general rule in these situations, including a suit, shirt and tie for men, and a blouse and skirt or a dress for women. Out of respect for the occasion, very casual clothing such as t-shirts, jeans and shorts should not be worn under graduation robes. Certain institutions may not allow you to participate in the procession or ceremony if you are dressed inappropriately.
An important consideration is the season of your graduation ceremony. If the weather is cool, then men should consider wearing a dark suit. Not only will this be warmer, but the shape of the jacket will give the gown more form and look better for pictures. If your ceremony is to be held during the spring or summer when temperatures are warm, or if it's in an indoor location where the temperature will rise, men may simply opt for a dress shirt and tie. A dressy white top and dark skirt will be appropriate for a woman in either case, long-sleeved for cooler weather and short-sleeved for hot weather.
The graduation hood is worn around the neck, and is usually secured by a button on a shirt or blouse. If you are wearing a shirt that does not have buttons, the hood can also be pinned but keep in mind this may leave a tear or mark on your shirt. Ladies should keep in mind that wearing a low-cut top or dress will make pinning the hood difficult.
If it's important to you to stand out in a sea of monotone color and square caps, you should consider wearing an unusual shoe style or, for the ladies, interesting earrings. Platform shoes and high heels can not only be a fun way to express your individuality, they can also add several inches to your height and help you to look better in pictures. So plan to dress the part for graduation, relax and enjoy the big day!