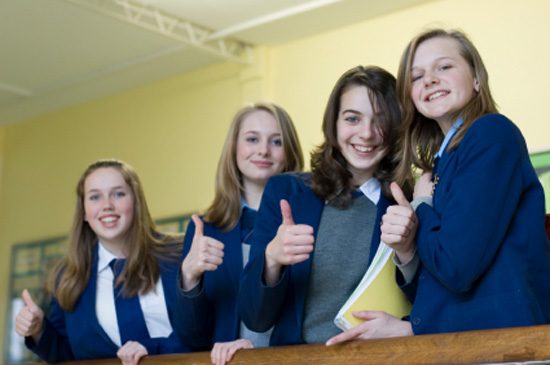 School uniforms usually don't make the top of the fashion lists, and they are not always flattering. If you're bummed that your school's new uniform policy might interfere with your totally gorgeous looks, don't worry. There are lot of things you can do to be cool at school in uniform and keep your individuality, even when your clothes look like everyone else's.
1.    Go with fashionable wardrobe accessories. You can add small wardrobe accents such as a colorful scarf in your school colors, or a cute jacket. If you're restricted to a certain type of jacket or cardigan, don't just pick one out of the school catalog. Shop for your own at the mall, and find one in the same color with a better fit and fabric. Try it on before your purchase, or wear your uniform so you can compare different pieces. A cute hat is also a fun addition to your look, but be careful about wearing these indoors since most schools won't allow it.
2.    Just add jewelry. Find a cool necklace that can become your signature, and maybe a bracelet or two. If you like earrings and are allowed to wear them, pick out some cute dangly ones. If not, go with simple studs that aren't too big. Watches are another great accessory that can add lots of sparkle and fun to your look.
3.    Experiment with your hair. This is the most individual characteristic you've got when you have to wear a uniform, so make the most of it. Try wearing different hair styles and colors. If you have long hair, you can have tons of fun wearing it in braids, ponytails on the side or up high, or in a bun. You could also try different hair colors or highlights, if your school allows it (some schools don't allow unnatural colors, such as pink, blue, green, etc.). If you can't dye your hair, go with subtle highlights or lowlights. There are so many possibilities, so don't wear it the same way every day!
4.    Use hair accessories. Hair accessories can make boring hair look fantastic. Try headbands in different colors and patterns, cute little hairclips, scrunchies, sparkles and colorful rubber bands.
5.    Choose stylish school supplies. The school supplies you use can also become a statement about who you are. Get a great school bag, and decorate it with fun badges, clips, cool keyrings, stickers and personalized sayings. Buy a cute pencil case, and use fun pens, pencils and erasers. Consider covering your books with colorful patterned fabrics.
6.    Wear makeup. Makeup is the perfect way to add polish to your look, and can also be a good pick-me-up on a bad day. Go with a little eyeliner, some light mascara, a bit of blush and some colored lip gloss. If your school has strict guidelines regarding makeup, use very neutral shades. Try a tinted chapstick, a hint of blush and a little mascara.
7.    Smile! A genuine smile and self-confidence are the best accessories you can have, no matter what you're wearing. Be yourself, and you will be beautiful!