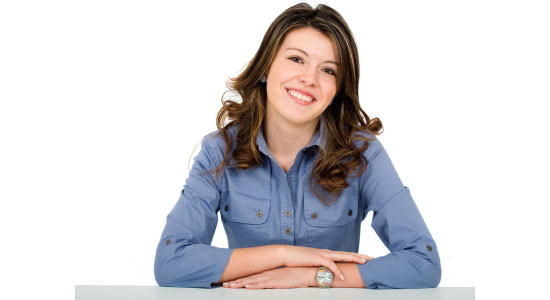 Business Casual is the standard in work wear for most women. Most businesses, with some exceptions, are content for their employees to dress in a professional yet casual manner. However, the drawback with stating that the dress code is business casual is that not everyone understands exactly what it is and what it isn't. Knowing what business casual entails for a work environment is definitely critical information for every employee in that type of firm.
Business casual is made up of a wide variety of different women's clothing. In fact, it may even be somewhat different from company to company. Here are some of the standard business casual clothes for women:
•    modest dresses
•    mix and match suits
•    slacks
•    sweaters
•    blouses
•    solid T-shirts layered with another top
•    dressy T-shirts of good quality
•    cardigans
•    skirts
•    Capri pants
As a general rule, business casual is not as formal as standard business wear, but is not as casual as street clothes. Many articles of clothing can be suitable for business clothing or not depending on the condition they are in. A new T-shirt that is ironed may be perfectly acceptable in a business casual outfit, however an older tee that is faded, has lost its shape or requires ironing is not acceptable. Neatness and a pulled together look are essential to business casual. So be sure to iron your clothes, match them up and keep them in good repair.
Certain items are never considered acceptable for a business casual environment. Knowing which ones they are will help you to avoid fashion mistakes in the workplace. Some attire that is definitely not business casual includes:
•    flip flops
•    worn T-shirts
•    torn jeans
•    sweat pants
•    sweat shirts
•    short shorts
•    tank tops
•    business suits
•    pantyhose
•    uniforms
•    sleeveless shirts
•    mini skirts
•    revealing outfits
•    lingerie as regular clothes
•    scrubs
To complicate the category of business casual even further, there are some items that are maybes. Some attire that is considered to be business casual in certain companies but not in others are:
•    jeans
•    printed T-shirts
•    shorts
•    sandals
•    polo shirts
The best thing to do is to check your company's guidelines thoroughly in order to avoid wearing something that does not fit your firm's dress code. If they are one of the looser ones, you should still err on the side of neatness and being conservative. Keep necklines and hems respectable. Do up most of your buttons. Do not opt for T-shirts with offensive or questionable text on them. Press your clothes in order to look sharp.
Business casual is meant to provide a more affordable style of dress for work and a more relaxed environment for the office. Be sure you are completely familiar with your firm's standards when it comes to business casual. It is better to be overdressed than too casual. If you have doubts about what to wear, emulate the look of your supervisor. In fact, it's always a good idea to dress for the level you want to be at rather than the level you are presently working at.