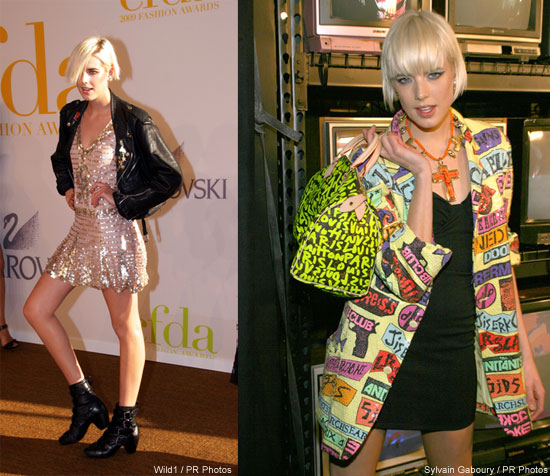 Agyness Deyn is a hot, young British model who is well on her way to becoming a supermodel. Her short, cropped blond hair which is typically worn in a bed head style is her signature look. Her unusual name was one she adopted to further her modeling career. Her birth name was Laura Hollins. She has moved to New York City for her work and is engaged to a rocker. She is a strikingly beautiful model who has a very unusual sense of fashion.
Dressing like Agyness Deyn means creating an eclectic look. You will need to invest in a variety of things old and new to help create a look that is funky but works at the same time. Her style is very unusual and the press goes back and forth between referring to her as a fashionista and just plain weird. She has a tendency to mix styles, colors, textures and seasons to create a look that is uniquely her own. If you are looking to dress like Agyness Deyn, be prepared for funny looks, comments and have a snappy remark or two ready.
Agyness tends to bounce back and forth between a rather bland mix of colors like black, gray and white and outlandish outfits in shades of purple, red or multi-colored outfits. She also favors bold designs and prints. She is big into layering her clothes and tends to add some item of clothing that has texture to create added interest. When layering, there is often a printed T-shirt somewhere in the mix. She is big into tights, leggings and skinny jeans. She also has a wide variety of different coats for casual wear and even fur ones for special events.
In terms of accessories, Agyness loves them all. Even knee socks make it into her wardrobe. Tights are a staple and are necessary in a variety of colors, though black is most important. Long necklaces are a feature in her accessories. She is not attached to a big bag like many celebrities, but favors clutches and medium-sized shoulder bags. She will also be seen with big bags in a variety of colors though.
Shoes are always an interesting feature of her outfits, sometimes adding unusual color while other times adding an unusual design. She also likes Dr. Martens and other military style boots. Agyness also has a thing for hats, from fedoras to knit caps, and hoods. She often has her cropped hair covered. Scarves are another fashion accessory she uses often, especially in the winter.
To put the finishing touches on dressing like Agyness Deyn, you can copy her hair and makeup looks. A cropped, bleached blond look is not one that everyone can necessarily pull off though, so give it some consideration before making that change. Her makeup tends to be pale with dark eyes and eyebrows, though is not overdone.
Get started on your Agyness Deyn wardrobe now for an up and coming super model look.