Oprah Winfrey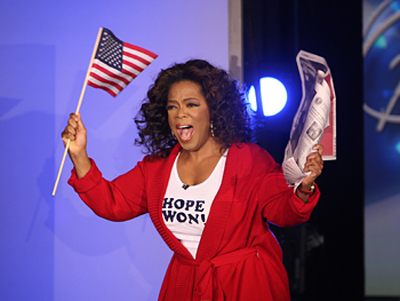 Oprah hosted a post-election special and she was wearing a white t-shirt with Hope Won! in large blue letters. Oprah called Obama's win "a new day for America".  [Source: Oprah.com]
Sarah Jessica Parker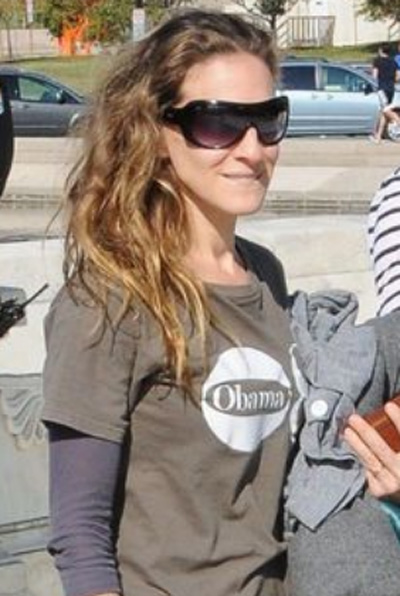 Sarah Jessica Parker was spotted working in Washington D.C. this week earing a brown Obama t-shirt with a large o w ith the word Obama in the middle.  [Source: Splash News]
Ryan Phillipe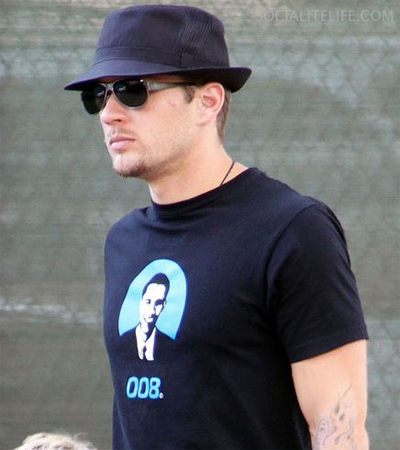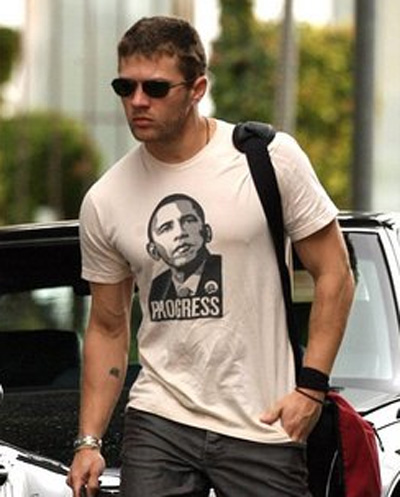 Black Barack Obama Double o eight t-shirt that has with Obama's face and a blue circle and the text 008 as well  as an Obama Progress T-Shirt. [Source: Socialite Life]
Pierce Brosnan
Pierce Brosnan was seen wearing a white t-shirt with an artistic representation of Obama in black and white. Pierce goes for the tucked in shirt look. [Source: Splash News]
Sean "Diddy" Combs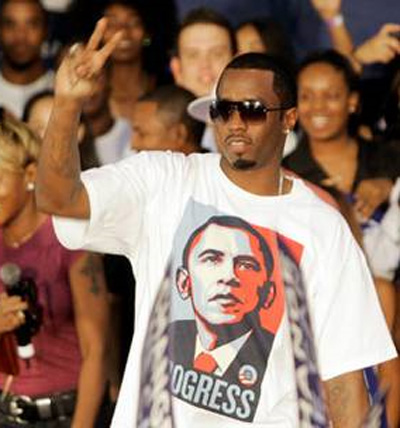 Diddy was spotted wearing a white Barack Obama Progress t-shirt while trying to get the youth to vote. [Source: Perez Hilton]
Chris Brown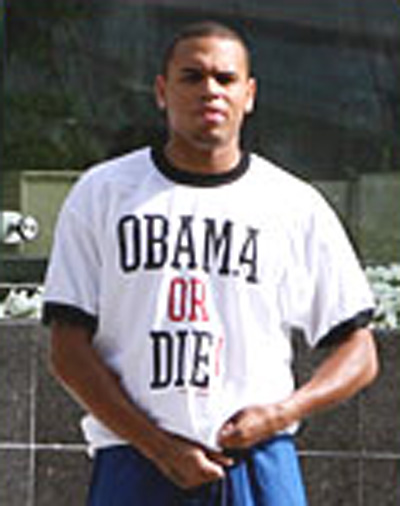 Chris Brown was seen wearing a white ringer t-shirt with blue edges and the text "Obama or Die" as a take off the the 2004 Vote or Die campaign. [Source: Didntinviteme]
Cher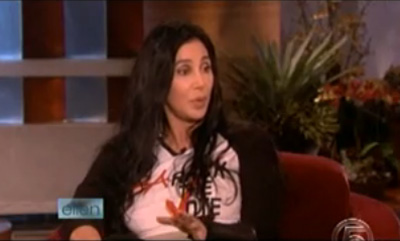 Cher was on Ellen a earlier this week with a Barack the Vote t-shirt.The shirt is white rock the vote with red text for the B and A.  [Source: Popcrunch]
Halle Berry
Halle was spotted over the summer wearing a fitted white Barack the Vote T-Shirt with a large photograph of Obama in blue and pink. [Source: PopSugar, Bossip]
Anne Hathaway
Anne Hathaway was spotted at the Democratic National Convention in August wearing a white Obama campaign t-shirt. [Source: PopSugar]
Beyonce Knowles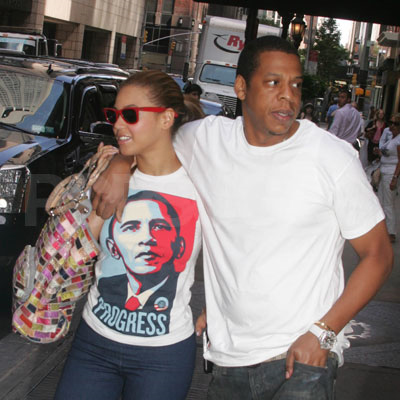 Beyonce was seen wearing a white Obama t-shirt with the famous Obama Progress design in August. [Source: PopSugar]
Ellen Pompeo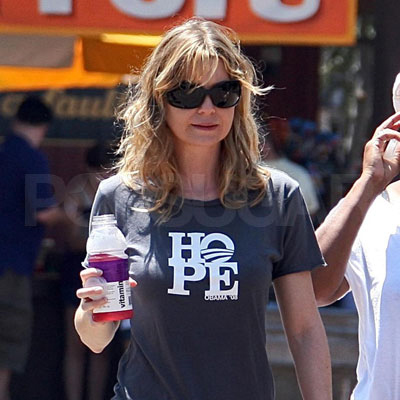 Ellen Pompeo was seen wearing a charcoal colored Barack Obama t-shirt with HOPE in white letters and the text Obama 08. [Source: PopSugar]
Kim Kardashian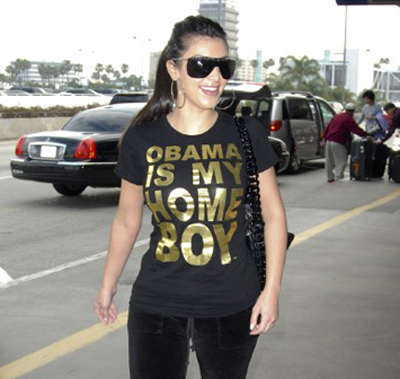 Back in March Kim Kardashian was spotted wearing a black t-shirt with large bright gold lettering that says "Obama is my Homeboy". [Source:Media Outrage]
Madonna
Madonna was wearing a Barack Obama after a workout at the gym. The shirt has a full print on a black t-shirt with a large Obama head and his signature. [Source: Hollywood Up-Close]
Joel Madden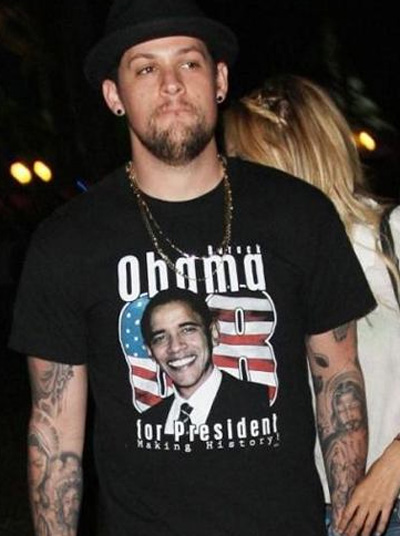 Joes Madden wore a black Barack Obama t-shirt with a photograph of Obama and the text "Barack Obama for President Making History". [Source: The Insider]
Pete Wentz
Pete Wentz was spotted wearing a white cut up Obama t-shirt with a phrase something like "More  than just his clothes" and something else that is too difficult to read. [Source: Rolling Stone]
Alicia Keys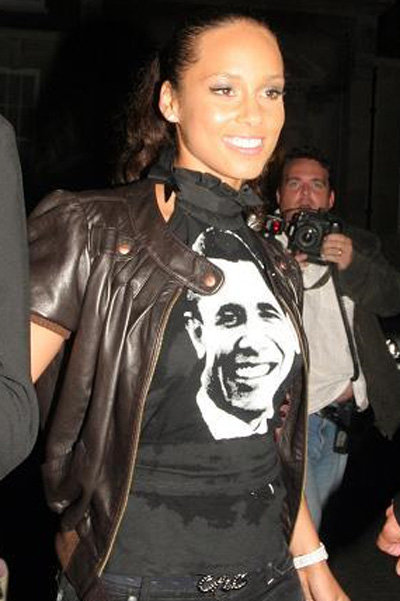 Alicia was seen over the summer in London in a black t-shirt with a giant black and white photograph of Barack Obama. [Source: Toyas]
Rumer Willis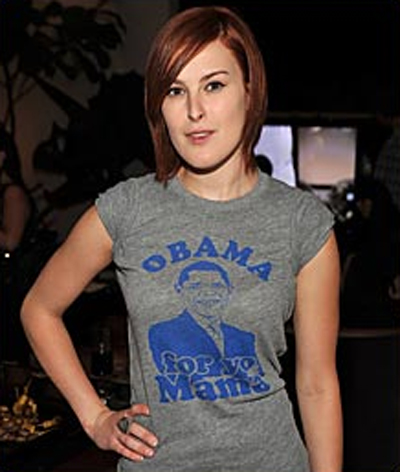 Rumer Willis was caught wearing a heather grey Obama t-shirt with a drawing of Obama and the text "Obama for your Mama".  [Source: Just Jared]
Peter Facinelli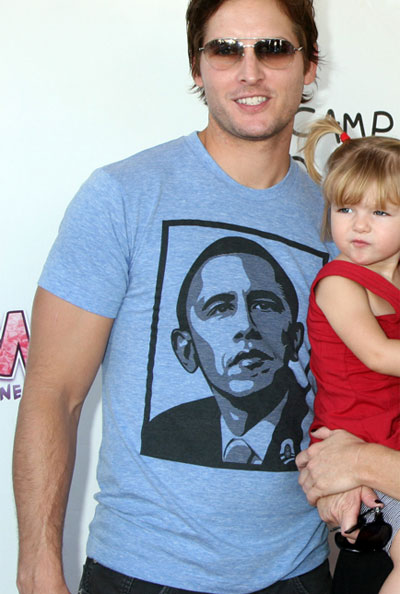 Peter Facinelli was seen wearing a heather blue Obama t-shirt design with a large image of Obama at the Camp Ronald McDonald 16th Annual Family Halloween Carnival in Universal City.  [Source: CeleBitchy]
Fergie
Fergie was wearing a white Obama t-shirt with his face tiled in a variety of colors during a performance back in September. [Souce: PopSugar]
Ryan Gosling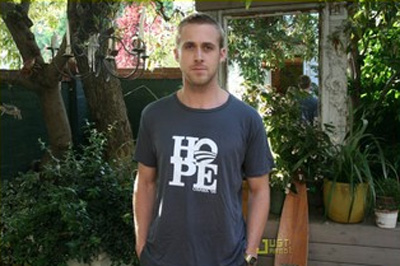 Canadian Ryan Gosling shows his support of Barack Obama with this charcoal grey t-shirt with the word Hope on two lines. [Source: Daily Mish Mash]
Spike Lee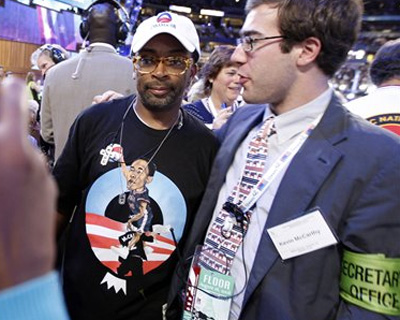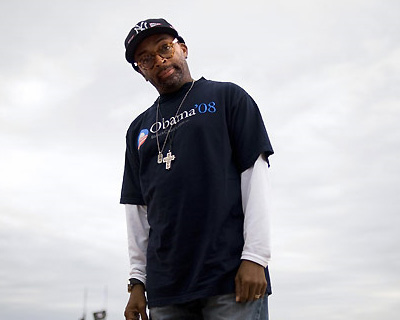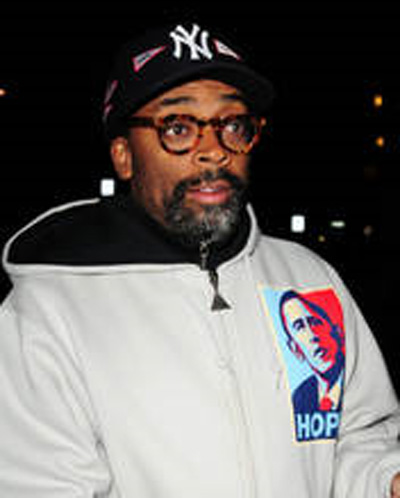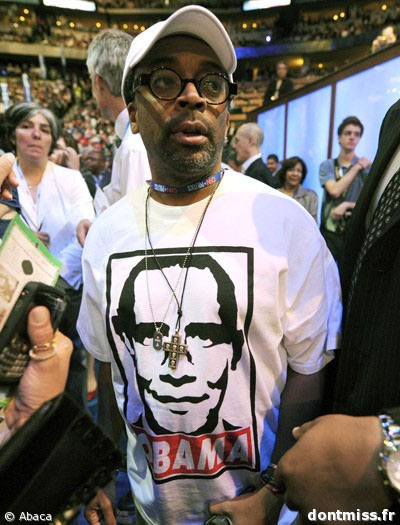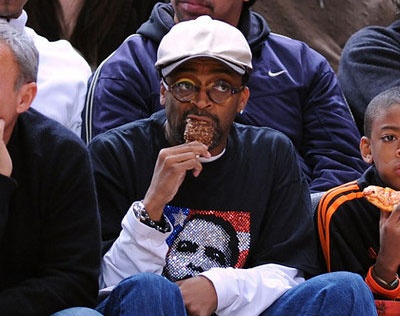 Spike Lee has been spotted a few times wearing an Obama t-shirt. The top image of Spike Lee is an Obama t-shirts with Obama symbol and then what appears to be Obama playing basketball and dunking on John McCain. [Source: Star Pulse] The next t-shirt he was seen wearing was an official Obama campaign t-shirt in dark blue with Obama and the Obama symbol. [Source: Virgin Media]. The third image of Spike Lee is an Obama hoodie with the classic Obama design with the word Hope below. [Source: 43kix]. The fourth Spike Lee image features a very large drawing of Obama with an interesting smirk on his face and the text "Obama" [Source: Don't Miss] . The fifth image of Spike Lee wearing a Barack Obama t-shirt with what appears to be some shiny objects that were sewn on the t-shirt to make up the Obama design [Source: Babble].
Paul Blackthorne
Paul Blackthorne of LipstickJungle was spotted riding his bike wearing a grey Obama t-shirt with a large Obama face in black. [Source: NY Post]
__________________
This post is a work in progress…If we missed anyone important please let us know.