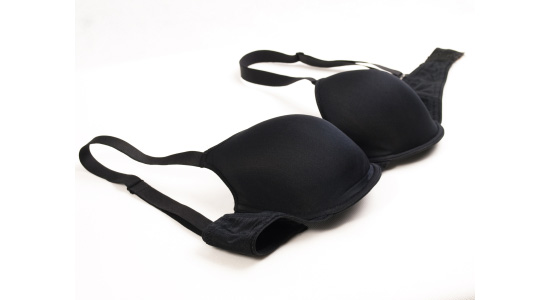 Push-up bras are not just suited for women that have small breasts anymore. Women of all breast shapes and sizes can benefit from push-up bras. A push-up bra can give a much needed lift to sagging breasts and can also create some wanted cleavage for a multitude of breast sizes. For many women, a push-up bra is the perfect solution to give the appearance of fuller, shapelier breasts, without having to go through cosmetic surgery. There are times however when a push-up bra may not be right for you, so how do you know if a push-up bra is the way you want to go?
Many women choose a push-up bra because they want a more flattering side profile or silhouette. In order to create what many consider the most flattering of silhouettes, your nipples should sit half way between your elbow and your shoulder. If your breasts are naturally much lower than this, a push-up bra is the perfect solution.
Many times knowing if a push-up bra is for you or not comes down to overall comfort. If you are wearing a push-up bra it is obviously going to 'push' on your breasts. Wearing the wrong type of push-up bra may do you more harm than good. Sure your breasts will receive a lift, but at the expense of your comfort.
The type of push-up bra you need comes down to how well endowed you are:
•    Flat Chest: If you weren't given much to work with in the first place, then a push-up bra can be a nice way to make due with what you have. In your case, a padded push up bra will not only give your breasts a boost, but it can add to the overall volume appearance. There are even some types of padded push up bras that are filled with air, silicone, or other types of filling that can add an entire cup size.

•    Average Chest: You may not be looking for added volume, but you may be looking for an added boost. You should go with push-up bras that only have padding in the lower third of the bra cup as this will give the lift you desire without adding any volume.

•    Large Chest: When it comes to breasts, the bigger they are, the lower they fall. Time and gravity will pull full breast downward and a boost up is great for your confidence as well as your appearance. No need for any padding here, just stick to a supportive contour to get the desired lift you are after. Another consideration for you is to get a push-up bra with padded straps as this will help distribute the weight of your breasts better and keep you more comfortable.
Not sure what you are looking for, you can always go to a pro. There are a number of stores and boutiques that offer a wide range of push-up bra styles. When all else fails, ask one of the sales associates for help.
Just remember, when it comes to push-up bras, comfort is king. There is no reason to have your breast lifted if you are going to be in pain the entire time the push-up bra is on.