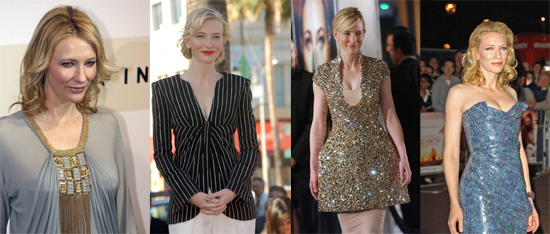 Cate Blanchett is the daring Australian actress whose list of films covers a wide spectrum of roles. However in real life, her look is much more classy and refined. She sizzles on the red carpet, and looks polished and clean in every day affairs.
Her style is unique and doesn't follow the trends. First throw all out preconceived notions of what is trendy and hot at the moment. Cate's attitude is breezy and unfazed as to what people think of her, and this reflects in the clothing that she chooses.
Cate has a wide palette of desired colors. From neutrals like gray to bold colors like red, she has been seen in every color on the spectrum. Her most stunning outfits paint the red carpet in a rainbow of sparkles, plunging necklines, exposed backs, and flowing fabrics.
Remember that her style is never the same. To get some of Cate's looks, go for the dressy, red carpet style. At an Italian fashion show this year, Cate was wearing a floral Armani Prive calf-length gown. The dress was black, with long and feathery flowers splashed across the front. In order to copy this exact look, find a dress with a boat neck collar and tiny sleeves. She pairs this dress with chunky silver pumps and a small silver clutch.
At a Vogue event in Sydney, Cate's dress of choice was very different from the Armani. She opts for a bold scarlet dress this time, an eye-popping color. This dress falls down to the ankles and cinches at the feet, while the sleeves are long, extending to the wrists. The only exposed skin is her plunging neckline that stops at the empire waist band, giving the dress a mysterious sexiness by revealing just the right amount of skin. She adds matching scarlet sandals and three strands of chunky pearls as her only accessories. Her look is simple and classic.
One of Cate's most stunning dresses was the one she wore to the 2007 SAG Awards. Her golden goddess dress catches every beam of light and casts her in a shimmering and radiant glow. The dress falls over her body like liquid, complementing her every curve. To pull off this same look, find a metallic gold dress that falls to the ankles in loose lines. This dress has a v-neck neckline and empire waist, while the straps are a bit thicker than your normal spaghetti strap. Cate wears a long silver medallion that falls right at the high empire waist, and crystal studded heels by Armani Prive. Sweep your hair back into a soft and feminine ponytail like Cate's. This updo will show off the length of your neck, while drawing attention to the detail of the dress around the neckline.
Whatever dress style you choose, remember that Cate is never seen in anything that she doesn't wear well. Even if most critics find her clothing sometimes unflattering, the way Cate carries herself causes her to look flawless in whatever she wears. Be confident, smile knowingly, and act like you look good no matter what you put on. That is the key to dressing like Cate Blanchett.