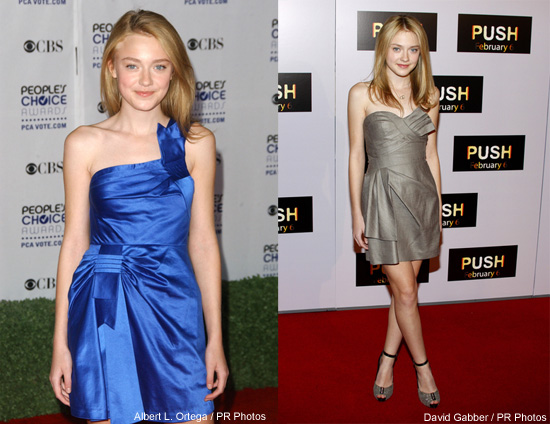 Dakota Fanning is coming of age with style and grace, and she has a wardrobe that reflects her age and her elegant sense of style. She dresses in age-appropriate clothing that is both fun and traditional.
Dresses
To events, parties and dressy occasions, Dakota Fanning has made a name for herself with her elegant dresses and her impeccable style. Her dresses are often brightly colored, adding some fun to her look. She likes bright yellow, red, black and white, green and plain black.
Dakota Fanning often wears dresses that are strapless. If you choose a Dakota Fanning dress, find a strapless dress that has a high neckline in order to get her age-appropriate look. Dakota Fanning never reveals too much, and she always keeps conservative lines on her dresses. The dress can be a few inches above the knee length or longer. She wears both shorter-than-knee-length dresses and long, ankle or floor-length hemlines.
Many of her dresses have a cute pattern on them such as a floral, leaf or scrolling pattern. The pattern should be in a contrasting color as the background of the dress in order to give it a fun look.
Look for dresses that have fun necklines and hems like scalloped or ruffled edges to give the dress a youthful look. Dresses that have a gathered area of fabric on one side to give the dress an asymmetrical look would be another good choice.
Jeans
When Dakota Fanning wears jeans, she prefers the acid-washed look of the early 80s. These jeans have a dappled look with both light and medium blue color in them. Choose tapered-leg or skinny-cut jeans to get her casual look. She prefers to wear Seven jeans, but her style of jeans can be found in less pricey brands. Other brands that Dakota Fanning loves to wear are Juicy Couture pieces and True Religion jeans and shorts.
Fabrics
One of the hallmarks of the Dakota Fanning style is the delicate fabrics that she prefers. If you are looking for a dress like one of hers, look for silk with a satin sheen. If you want to wear a top or pants like hers, think silk and satin as well. She often wears silky shorts with matching shirts when she has an event that isn't quite dressy enough for a formal gown.
Sometimes she wears a shiny satin top with a pair or tight-fitting black pants or leggings. To get this look, get a top that is either strapless or has spaghetti straps. Pair it with a plain pair of skinny black pants.
Shoes
Like all of young Hollywood, Dakota Fanning loves to wear high heels. Because she is young, Dakota Fanning's heels aren't quite stiletto height. Choose a two or three inch heel to get her shoe height. The shoes should be strappy heels that have an ankle strap or a t-strap with an open toe. The shoes can be in any fun, bright color like purple or blue. If you are wearing a black dress, choose a shoe in a fun color to liven up the outfit.