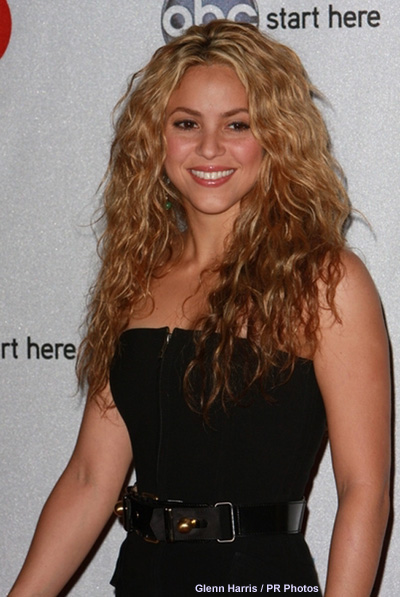 Shakira is an international star whose eclectic style has captured the imagination of her legions of fans. Her style is a fun mixture of many different styles to create a cohesive, fascinating look.
Shirts
The shirts that Shakira wears are generally the type that bare the abs. Shakira has incredibly toned abs and enjoy showing them off when she can. To get this look, choose a belly-baring shirt that is tight fitting and brightly colored to give it a fun, flirty look.
If you have a t-shirt that you want to incorporate into this look, she also wears torn t-shirts that are torn strategically to reveal the abs. This can be done by cutting the t-shirt crosswise to leave a few inches of the stomach in view. If the edges of the t-shirt get a little frayed, that is a part of some of Shakira's looks.
Sometimes Shakira shies away from shirts all together and wears a bikini top instead. This look can be worn with a brightly-colored bikini top and a pair of low-rise jeans or light-colored pants.
Pants
Shakira wears many different types of pants, but they are generally very tight fitting. One of the things her style is known for is how tightly her pants fit. To get this look, wear pants that are one to two times smaller than you would normally wear.
Sometimes her pants are jeans, but often she wears leather pants. These can be pricy, so faux leather is an alternative that can help to keep the cost down.
Choose pants that are in bright colors or in warm neutrals. When she's wearing a fun, colorful outfit, she wears pants in orange, yellow or white. When she's wearing an outfit that is sultrier, she often chooses pants in beige, tan or other warm neutral colors.
Accessories
Some of what makes Shakira's outfits so memorable are the accessories that she wears with each of her outfits. The accessories have a Middle Eastern touch to reflect her Lebanese heritage. She likes to wear small Middle Eastern accessories like scarves, tassels and other pieces that represent that part of her life.
You can get these Middle Eastern touches by finding small pieces such as earrings and belts that have coins or small bells on them. These are fun accessories that add a bit of Shakira's flair to any outfit. Look for lots of silver bracelets to complement the outfit. She enjoys wearing five or more bracelets to make her outfit her own. To get her look, wear plenty of silver rings as well. She often wears rings on every finger. Choose intricate rings that have plenty of detail. Bracelets that are attached to rings are another part of her look.
Shoes

Shakira loves to wear fashionable boots with her outfit. She often pairs a pair of tight leather pants with a pair of tall leather boots. Look for black boots that reach to mid-calf. If the boots have plenty of zippers or snaps on them, this is the perfect Shakira look.