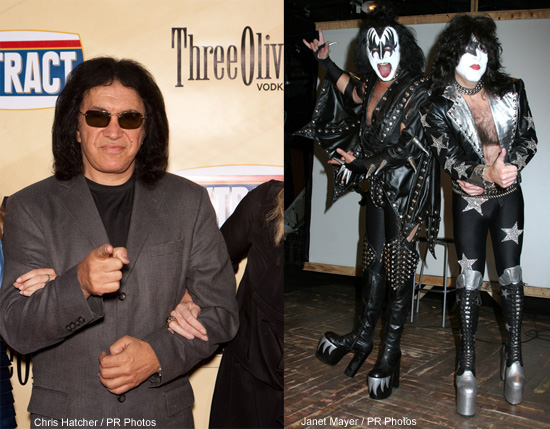 Since the 1970's the rock band Kiss has sold out the biggest venues around the world. Their style of rock and roll constantly pushed the envelope and continues to influence much of the music you hear today. Probably the most popular member of the band is Gene Simmons. Simmons is the one that was famous for sticking his extra long tongue out pretty much every chance he got.
When it comes to dressing like Simmons you could always go full out and get the outfit he wore on stage but you will really only be capturing his stage presence and not the real Simmons, though it is close. Besides to dress like him on stage you will have to put on lots of make-up and that may or may not go over so well.
When you think about dressing like Gene Simmons two words should come to your mind; casual and black. Even when he is at a special event or an awards show he looks as relaxed as can be. Here's a sure way to emulate his rocker look:
•    Shirts: Simmons is very rarely seen wearing anything other than black shirts. When you choose your shirt you should not only make sure that it is black but that it is long sleeved as well. A nice button down shirt with the first three or four buttons undone usually does the trick.
•    Jackets: Sometimes Simmons can be seen wearing a black sports jacket, but more times than not you will see him in his familiar black leather jacket. Whatever you decide to go with, make sure that you leave it open as this adds to the Gene Simmons illusion.
•    Pants: This is your best chance for a little variety. Simmons can often be seen in jeans, dress slacks, and of course leather pants. The jeans can be any color from light blue to black, but stick to black only for the dress pants and the leather pants as he never wears any other color in those departments.
•    Shoes: To no surprise, Simmons wears black shoes. His foot attire consists of comfortable sneakers all the way to leather boots, but any way you decide to go, go with black.
•    Shades: This is the piece that ties the entire outfit together. Gene Simmons always wears his sunglasses even at night time and it is rare indeed to catch a glimpse of his eyes. When you pick out your sunglasses, make sure to choose ones that are known as wrap around. All this really means is that the sunglasses will be a bit bigger than normal. If you choose sunglasses that are too small it simply won't fit the outfit.
•    Accessories: To complete the look get yourself a few rings to put on various fingers. Never go with gold as Simmons usually wears rings that are metallic colored or black.
As far as the tongue goes that is a mystery. If you weren't born with an extra long tongue then use what you were given and make sure to stick it out as often as you can.