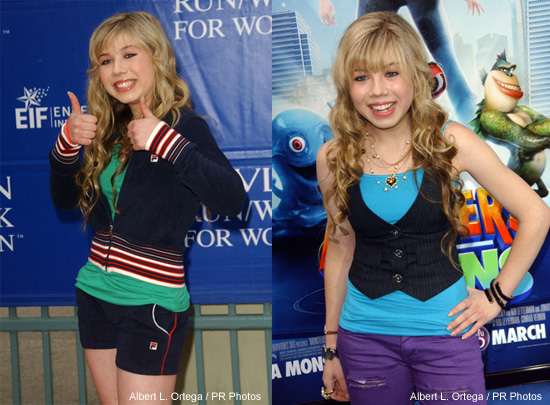 Jennette McCurdy is better known as 'Sam' on the hit television show iCarly that plays on Nickelodeon. Her witty banter on the show has her as one of the more popular characters and her everyday style pretty much matches her style on the show. Really she dresses much the same as many other teenagers that are her age do and it is probably for that reason that the future super star is so beloved and has so many other young ladies wanting to dress like her.
McCurdy has a very simplistic style and pulls off the all natural look with great ease. Here are some things you can do to dress like McCurdy:
•    Pants: As often as McCurdy is seen in a nice pair of jeans, most times she can be spotted in her favorite type of pants; Capri pants. When choosing yours go for a good fit, but don't go too tight as McCurdy never does. She typically likes to go with capri pants that are darker in color and she always wears her Converse high tops with her capris.
•    Shirts: When wearing her capris you will see McCurdy wearing the typical t-shirts that most teenagers wear. The shirts range from tank tops to frilly shirts and everything in between. She tends to go with light colors on top so when you get your shirt make sure that you go with a lighter color like white. She often tops off her shirts with a light jacket or zip up sweat shirt that has a hood.
•    Dresses: The other thing that McCurdy often sports is dresses. She wears lots of different styles of dresses and tends to stay a bit more on the conservative side when she is on the set on iCarly probably because there are a lot of kids that watch the show. When choosing yours, go with what you like. McCurdy doesn't have any standard when it comes to style and color she just likes dresses. When dressing up in dresses, McCurdy likes to wear a classic and stylish pump and the shoes of course always match the dress.
•    Accessories: McCurdy accessorizes very light and very simple. She wears beaded bracelets, simple earrings, and a thin gold chain with a charm on it. Sometimes when she is wearing a longer t-shirt she will have a big belt to help tie in the outfit, but that is about as crazy as she gets. When you accessorize remember to go low profile.
•    Hair and make-up: McCurdy actually goes fairly light on her make-up but does accentuate her cheek bones a good amount. She likes pinks for her lip stick colors but never wears anything to outrageous. Go light with your make-up application and try to go for the all natural look. To make your hair like McCurdy's you will need to grow it long, make it wavy and get bangs. You can go all out and color your hair with blonde highlights as that is how McCurdy's hair is.
Now you simply have to have that sassy attitude and witty banter everywhere you go and your transformation will be complete.