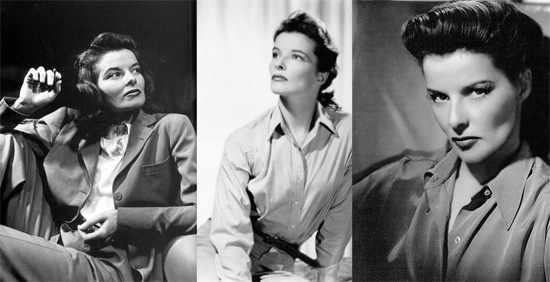 Katherine Hepburn never seemed to conform to what the latest fashion trends were at the time when her career as an actress was thriving. Instead of following the heard, Hepburn decided to be a leader and dress the way she wanted to dress. She wore pants at a time when most actresses where trying as hard as they could to flaunt what they had and never did she stray from her formula.  Her devotion to her own style must have been a good one as the actress won an unprecedented four Academy Awards for Best Actress throughout her long and lustrous career.
Her unique style of fashion and grace is one that is admired by many and even though she passed away in 2003 she is still held to a very high regard today and many women wish to dress like her. Here is what to wear in your quest to dress like Katherine Hepburn:

•    Wide legged pants: Her signature pants were always wide legged and were tailored to be snappy and sit high on the waist. Because much of her acting career was at a time when there was no color, you will want to stick with lighter and brighter colors like whites and creams. If you do go darker, go all the way as she was known to wear black from time to time.
•    Top: Hepburn was almost always seen in a blouse made of light weight material that was button down. She always wore a lighter colored blouse so make sure you don't go on the dark side here.
•    Jacket: To complete her look, Hepburn often wore a tailored jacket that was somewhat form fitting. She always went for a classic look so doesn't go too crazy with the style when choosing yours. Match the jacket to the pants and never mix and match colors.
•    Shoes: Hepburn usually wore stylish looking loafers with socks. It may sound cliché, but that's what she wore and she always pulled it off with elegance and grace.
•    Accessories: Hepburn was never much for a lot of accessories. When she did wear them it was usually in the form of a simple string of pearls which she wore around her neck or some other type of simple yet elegant necklace. Stay away from flashy as Hepburn was anything but.
•    Hair: To emulate Hepburn's hair you have to stay simple and conservative. She often wore it up and rarely did she do much with it. When doing your hair, go for a simplistic look with your hair partially or fully up if you feel more comfortable.
•    Make-up: Again, Hepburn was on the silver screen when there was no color for much of her career. She probably used a lot of make-up, but you would never know it by looking at her. When you do your make-up go for a natural look and accentuate your cheekbones and use a darker color of lipstick to bring out your lips.
Katherine Hepburn was truly a one of a kind actress and her style was also one of a kind. Her simple wardrobe is one of class and sophistication and is easily mimicked and will have you looking great no matter what the occasion.