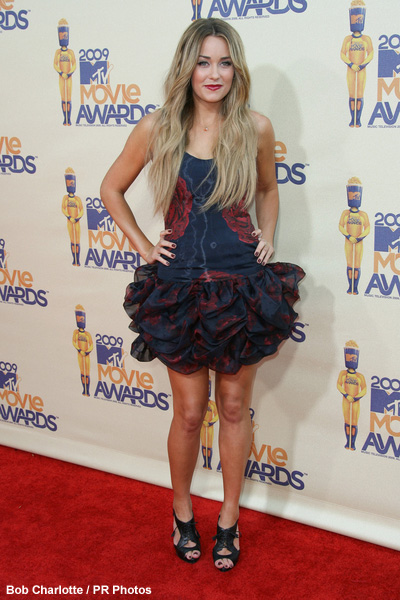 Lauren Conrad is an American TV personality who has been on a variety of reality shows despite the fact that she is only 23. The blonde 5'6" actress has also endorsed several products. The TV show that made her most famous is called The Hills on which she appeared on for 5 seasons. She has also spent a chunk of her adult life studying fashion and is presently working with a company to get a line of products out.
Lauren Conrad has a very wider diversity of styles in her wardrobe. However, she seems to have a predominance of white in her wardrobe. She also tends to gravitate towards very short or very long skirts. Many of her outfits are solid colored, which makes it easy to recreate for those who want to mimic her style. For a casual look, Lauren tends to like shorts and T-shirts with fedoras to make a statement. Her T-shirts are often printed with something fun or clever. Flip flops are also a winner when the heat rises, as are oversized glasses.
Unusual tops are a hallmark of Lauren Conrad's style. She enjoys fun and different necklines in order to draw attention to her upper body. She also likes to dress up a top if it does not have something different about it. She often wears scarves and other accessories. Her accessories are often interesting designs. Lauren also usually carries a medium-sized purse, though will occasionally go for a bigger one. Lauren also tends to choose over-sized sunglasses. These accessories and other little details are what makes the look so unique and in style.
When it comes to the red carpet Lauren is a study in contrast. She has been photographed wearing long flowing dresses with wild prints that touch the floor, short solid color dresses and exciting print dresses. Some of her dresses look very traditional, while others have a distinctly unusual. Much of the jewelry she wears, including red carpet jewelry is minimal. Lauren is a fan of high heels, especially flashy ones.
If you are fascinated with the Lauren Conrad fashion look and want to copy it, nothing could be easier. Since Lauren has her own line of clothing it is a great place to start in order to truly get the look you want. You can get her very own line from Designer Apparel or at Seen On. Another great online destination for anyone who wants to dress like her is .
If you are ready to start dressing like Lauren Conrad, get started checking out every photo you can find of her in order to get a good perception of what her style really is. Break down outfits that you ready like and start collecting the items you need to pull to it all together. Check out online sources as well as the above sites for more up to date on Lauren. In no time you'll be ressembling Lauren Conrad and be nearly as famous as she is.