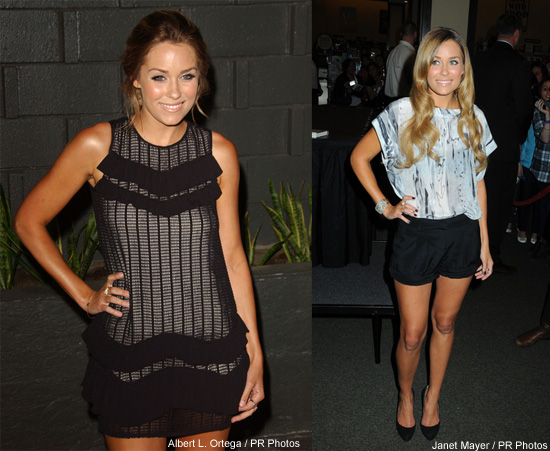 Lauren Conrad is one of the biggest trendsetters in today's fashion. She is known for her short skirts and her fun, flirty look. Not only does she study fashion and work in fashion, she also loves it. She also has her own fashion line that reflects her own personal fashion taste. If you want to get started dressing like Lauren Conrad, start by trying a few looks from her clothing line. Like the clothes that Lauren Conrad wears, her clothing line is full of lots of short dresses, short skirts and tiny shorts. It also has a number of flowing tops that can be paired with anything from jeans to an elegant straight skirt.
Dresses
Lauren Conrad always dresses in a very feminine style. She often wears dresses for the most casual occasions. She has daytime dresses for work or for hanging out with friends and shopping. She also has nighttime dresses that are made from richer fabrics and are in deeper colors.
Choose a dress from Lauren Conrad's dress collection to get one that looks like the ones she wears. Her dresses are flowy and feminine and look like the dresses that she is often seen in. Several of them are extremely short- shorter than mid-thigh. She is often seen wearing dresses this short, so try one to get her dressy look down. Like her dress collection, some of the dresses she wears have no waist and some have a belted waist.
Lauren Conrad's dresses are usually low cut and have plenty of draping. If you can't get dresses from her collection, look for dresses that are Grecian in style, with free-flowing fabric in a solid color. Baby doll dresses that have an empire waist or no waist at all are perfect to capture Lauren Conrad's look. Wear a baby doll dress in burgundy or purple to capture her nighttime look. For day time, choose softer colors or high-energy patterns in bright colors.
Tops
Like her dresses, Lauren Conrad prefers her tops to flow well and to be in rich colors. Some of her tops are in black, but many are in deep shades of purple, gray or red. She prefers v-necks or scoop-neck tops in most of her outfits.
Shoes
Lauren Conrad is often seen in metallic flip-flops when she's out shopping or hanging out with friends. She wears the flip-flops with short dresses to give them a more casual look. With her evening dresses, Lauren Conrad prefers high heels. She often wears peep-toe heels in black, beige or gray. Her heels sometimes have an ankle strap to give the outfit a retro look. Sometimes the heels she wears are very plain, neutral-colored shoes with no details.
To pull off the perfect Lauren Conrad look, always keep femininity in mind. Add elegant, feminine details that you can add to your outfit, such as a small purse with a feminine print or a tiny gold necklace with an understated pendant will work well with your flirty dress and your flip-flops or high heels.