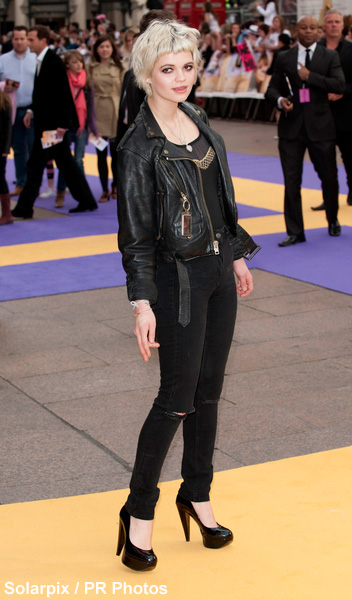 Pixie Geldof is the daughter of Bob Geldof, Irish singer and songwriter and younger sister to socialite Peaches Geldof. She lives in England and is still in school there. Pixie has been labeled a wild child in the press much like her sister. Her partying lifestyle is often documented, as is her sense of style. She is one of the darlings of the British press and is often referred to as an "It" girl. Pixie is famous for partying.
The tall thin blond looks like a model and can carry off practically any style. In fact she has begun a modeling career. Some of the outfits she is photographed in are very skimpy and resemble lingerie more so than an actual outfit that one would wear out. She favors prints, including animal prints and solid patterned tights. Her dresses are either very long, sweeping the floor or short to show off her great legs.
A true Pixie original look is faded jeans in a loose fitting style, rolled up at the hem and a white vest open at the sides showing a black bra underneath. Multiple layers of clothes predominantly black, with big black high heeled boots and a colorful scarf is another Pixie ensemble. Skinny black jeans with a strategically ripped knee, paired with a black leather jacket, a cute black top and shiny patent black heels is a sexy Pixie look for a premiere.
Pixie is very big on jewelry and accessories. She usually wears dangling earrings in geometric designs. Bracelets and large rings are also usual compliments to her ensembles, as are multiple long necklaces. She is also very much into big bags. High heels are almost always an important part of her look. She occasionally throws scarves and other accessories into the mix also.
Pixie likes to create visual interest with her hair. While her present look is a cute cropped blond do, she occasionally has a touch of pink in it. On a regular basis Pixie can be seen sporting a red wig. In addition, her signature look is heavily kohl rimmed eyes. She sometimes opts for an almost clear lipstick, while other times opts for something a little more shocking, however the eye makeup always remains the same.
If you want to dress like Pixie Geldof, the key is following her ever changing look. Some of the things you can focus on however are interesting, patterned leggings and tights, short skirts, revealing tops, multiple necklaces with pendants and outlandish hair and makeup. She often opts for lots of black with a bright color like hot pink to break it up and make herself stand out.
A great site to start accumulating those great Pixie look items is from Forever 21. This retailer specializes in the latest in everything and it is the perfect place to buy the wardrobe staples that you need to create a genuine Pixie Geldof look.
Get started today collecting those interesting pieces that will help you successfully put together a Pixie look.