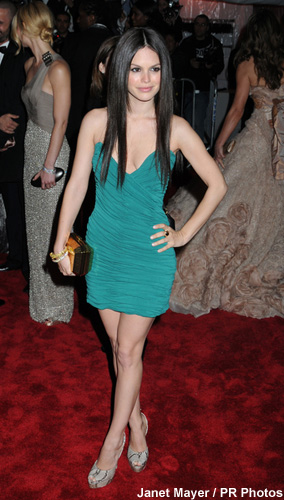 Rachel Bilson is a dark-haired beauty. The California born and bred actress has made a name for herself in recent years, despite being relatively new to the whole acting scene. She has only been acting on screen since 2003. Her big claim to fame was acting on the popular show The O.C. She has since gone on to do movies. She is presently engaged to Hayden Christensen, who was her co-star in the movie Jumper. Rachel is a lover of fashion and has helped to create a line of clothing through DKNY. The line is named Edie Rose, after her grandmother.
Rachel's style includes lots of black, with touches of color to brighten it up. She favors long black boots and black tights. She is also not afraid of color and can be seen sporting practically any color of the rainbow when the mood strikes. Many of the outfits she wears have geometric designs on them and those shapes tend to be her favorite prints. Her simple ensembles are often jazzed up by additions she makes to them like a splash of color from carefully chosen accessories.
Rachel Bilson has a love of short skirts and tights. It is one of her favorite looks. She is also big on layering. She often puts a jacket of dresses or top and skirt ensembles. She often wears skinny jeans and fun, interesting tops. While she sometimes dresses up quite a bit, for the most part Rachel Bilson has a definite girl-next-door look. She may be a fashion aficionado but she doesn't go out on a limb for her own personal style. That makes it even easier to mimic.
Rachel is a lover of accessories. Dark glasses are a must, as they are with so many celebrities. Oversized bags in a variety of colors, with a touch of metallic, add a little glamour. Long necklaces are also a Rachel Bilson staple, as are bangles. She is also a fan of big metal hoop earrings. Rachel is fond of flat shoes and boots, choosing comfort instead of high heels on a regular basis. What a smart lady! She does however wear heels on occasion and for special events. She is also often seen sporting a variety of hats. Scarves are another fashion accessory that Rachel is often seen sporting.
Rest assured that if you are striving to dress like Rachel Bilson, you will find it relatively easy to do. Many of the outfits she wears can easily be recreated from items you'll find at stores like Forever 21, The Gap, Wet Seal and even Old Navy. You will definitely need to invest in some colorful big bags, skinny jeans, lots of black clothes, flat shoes and boots and some carefully chosen colorful items to spice up your look.
Buy your Rachel Bilson style clothes now for a young, hip look that is sure to attract. Classic looks mixed with a little Hollywood glamour – that's the Rachel Bilson look.