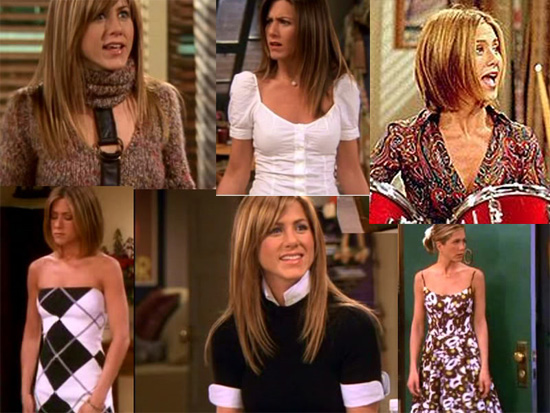 Rachel Green was a character on the fictional TV show, Friends. Friends was one of the most popular sitcoms in TV history and Rachel was one of the most popular characters on the show. Played by actress Jennifer Aniston, Rachel came from a privileged background but had to learn to live on her own and support herself in New York. Rachel starts out as a ditzy self-absorbed daddy's girl but evolves into a savvy fashion buyer who is a loyal and loving friend with complex relationships.
Aside from being stylish on her own, the character Rachel Green also works for the designer Ralph Lauren, which makes it possible, and necessary, for her to have a sophisticated and somewhat trendy look. Though not everyone can work for a designer and have access to high end clothes, with a little creativity it's possible to have Rachel Green's look and style.
The "Rachel" was one of the most popular hair styles in the 90's. Women across the country wanted to duplicate Rachel Green's hair. To get her look, try to style your hair with volume on top, parted in the middle and worn straight, framing your face. If you have short hair, a wig from a wig or costume shop can help you get the look of Rachel's hair.
Another way to get the Rachel Green look is with trendy stylish clothes that were popular in the 90's. From lingerie under cardigans to pencil skirts with tights, Rachel wore outfits that fit her body and made her look comfortable and edgy at the same time. Vests over t-shirts and short skirts with boots is another example of Rachel's look. Jeans with vintage t-shirts is something you can also wear to have her style. Body hugging tank tops with dark wash jeans were also a staple in her wardrobe and something you can easily find to get her look. In all of your choices, keep the color palette simple and earthy, including gray, taupe, and black that were very popular for her character.
For going out, Rachel would wear a variety of little dresses. From a classic little black dress to a sequined dress, this is something that you can find at most women's boutiques that would help you style yourself like Rachel Green. And with the dresses, don't be afraid to wear really high heels. Rachel never met a pump she didn't like!
Finally, when Rachel was pregnant, she wore lots of designer maternity wear. You can get this look by shopping for classic tailored maternity pieces at discount maternity stores. Pair sophisticated tops with comfortable classic pants and skirts and you can look like pregnant Rachel.
The character of Rachel Green became a style icon in real life fashion. Her streamlined classic look can be achieved by combining classic pieces that you can find at many department stores. Pull them together and you too can look like Rachel Green!