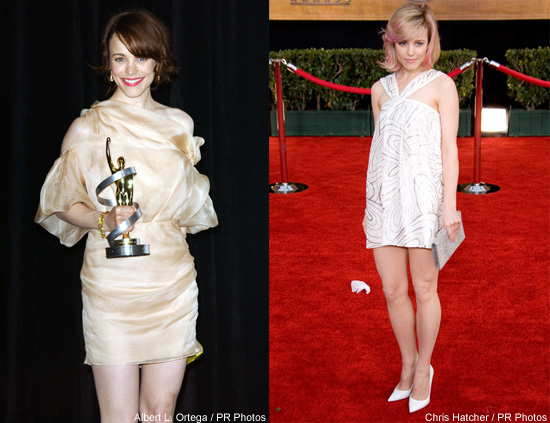 Rachel McAdams is well-known for her old-style glamour and her elegant Hollywood look. She brings on the glamour with a host of classic gowns that all complement her figure and her style.
Gowns
The many gowns in Rachel McAdams' wardrobe make her stand out every time she dresses up. Many of her gowns are couture, one-of-a-kind dresses. Most people don't have access to designer originals, but there are traits of her gowns that can be found in other dresses.
One of the most important factors in choosing a Rachel McAdams gown is to look for one that has a high-quality fabric. Look for thick, natural fabrics that hang well and look expensive. She chooses gowns that shine and are deep in color. Choose a smooth silk in place of polyester or chiffon.
When you choose a dress for a Rachel McAdams look, choose your colors carefully. She rarely wears pale colors and instead looks for vibrant color with some contrast in her outfit. Look for dresses that have deep colors like burgundy, deep purple, white or black. If the dress has two of these colors, allowing the dress some bright contrast, the dress will be a good representation of Rachel McAdams' gowns.
Make sure the dress you choose has simple lines and isn't too fussy with the adornments. Stay away from bows, ruffles or anything that ruins the clean lines of the dress. You can choose dresses that have some lace on them as long as it is incorporated into the dress and not hanging loosely. Make sure that the dress fits well without being too snug, and think of classic Hollywood style when you choose a hemline. Rachel wears a lot of ankle-length dresses that evoke old Hollywood glamour.
When you're going for a Rachel McAdams look, keep it feminine form head to toe. The clothes should be old-fashioned in style instead of having newer, trendier lines. Look for dresses that have long bodices and that flow well.
Pants
Rachel also wears pants to some events as well as when she's out with friends. Her look in pants is to choose straight-leg pants that fit impeccably and that aren't too short. Many of her pants are low-rise pants that are worn with a top that just skis the top of the pants. Stay away from cropped pants or pants that fall over the shoes in order to get her look. Choose a neutral color like black or tan and pair the pants with a simple, elegant shirt made from a natural fabric. This will allow the shirt to flow well.
Shoes

The shoes that Rachel chooses are generally high heels, even when she's wearing casual pants. She wears Christian Louboutin heels to many events and photo sessions. She prefers shoes that have thin heels, an ankle strap and an open toe. Look for strappy heels in either black or a bright, fun color. For a retro, Rachel McAdams look, choose shoes that have two contrasting colors such as black and white or pink and red.