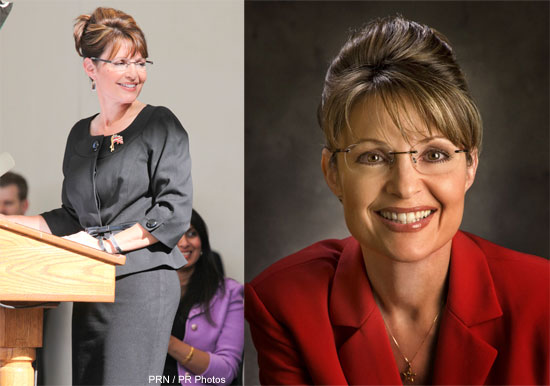 Abhorred by the left for her twangy individuality and adored by conservatives who love her candor and spunk, Sarah Palin has brought new life to the American political stage. Regardless of how one feels about her politics, part of the enormous appeal of Sarah Palin lies in her status as a new style icon. The former beauty queen combines a businesslike demeanor, tailored feminine clothing and a subtle sexiness to create a style that's uniquely hers.

Power suits. Sarah Palin has perfected the art of wearing women's business suits, and her athletic figure always looks great in this style. To build a suit wardrobe like Sarah's, start with the basics. Find a black power suit that fits your body well, or have one custom tailored. The suit should include a jacket, skirt and pants for the ultimate flexibility. Her skirt lengths are always at or below the knee. Sarah is particularly fond of red, so a red jacket or suit is another essential. Other than red, her color choices are usually subdued: beige, white, black, grey and peach. Underneath her suit jackets she often wears a blouse of a constrasting basic color, such as a white shirt with a black jacket or a black shirt under a red jacket.
Glasses. Though glasses are an optional accessory for most women, the Sarah Palin look wouldn't be complete without them. Early on in her run for vice president, Sarah traded in her old dark framed glasses for a pair of sleek Kazuo Kawasaki Rimless glasses. The structured design of the frames complement her angular face nicely, and have instantly become one of her trademarks. The frames are pricey at $375-700, depending on the lenses. Less expensive knock-offs have popped up, such as the Governess Chic Rimless Rectangular Clear glasses by Bleu Dame. These are a great option if you're only wearing them for a costume, but stick to the real thing for everyday wear (if you can find them).

A flag pin. To express her patriotism and support of the military (her own son, Track, serves in the Army), Sarah Palin often wears an American flag rhinestone pin on the lapel of her jacket. Check out an inexpensive version at Glamforless.com.
Heels. Sarah Palin always wears high-heeled pumps, sometimes with an open-toe design. She prefers black and red, such as the cute red snakeskin patent peep-toe pumps with gold buckle accents that she wore when accepting her vice presidential nomination at the 2008 Republican National Convention. One of her most photographed pairs are the Kate Spade Karolina classic pumps in Ruby Crocco Patent that she wore during her vice presidential debate with Joe Biden. You can get your own pair at Zappos.com.
An updo. Like her glasses, Sarah Palin's signature updo blends equal amounts of business and feminine. Ladies with medium length hair can easily recreate this look at home. Simply arrange hair in a half ponytail for height and control, then use a hair clip to hold the rest of the hair in place. Add wispy bangs and you've got Sarah Palin hair.