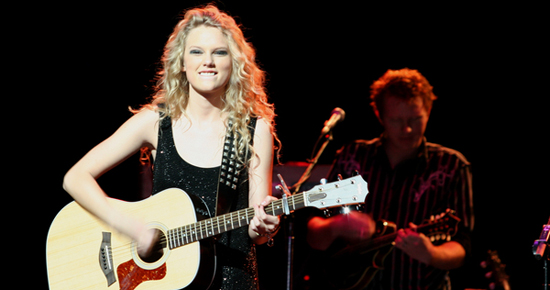 Anyone who sees Taylor Swift may wonder how she puts together such amazing outfits. Her style is a unique look that is put together to look as feminine and fun as possible. Her style is unusual for girls her age, but it is a look that few people forget once they've seen her.
Dresses
Taylor Swift is rarely seen without a dress on. She loves to wear long, flowing dresses that make her look like an imaginative and creative soul. Her dresses often have asymmetrical hemlines to make him look even more light and flowy at the ends. To choose a dress that looks like it comes from Taylor Swift's wardrobe, choose something that is either cream-colored or is bright and solid colored. She wears bright solid colors far more often than she wears patterns.
Her dresses are always low cut. Sometimes they are strapless but often they have spaghetti straps or cap sleeves. Her spaghetti-strap dresses are often in bright colors and have a lot of details to make them unforgettable. Her dresses feature ruffles, sheer overlays, dramatic beading at the hemlines and pleating that make the dresses stand out in a crowd. Sometimes her evening dresses have a long train in the back for an ultra-dramatic effect.
Shoes
Taylor Swift has a shoe collection that many girls envy. She loves boots of many types as well as elegant high heels. The boots she is best known for her are her many different pairs of cowboy boots. She has several pairs that are multicolored with brightly-colored patterns on them. She also wears black leather cowboy boots with casual wear as well as with evening dresses. She has also worn ultrahigh boots on a few occasions. In one TV appearance she wore thigh-high black leather boots.
Her high heels are often in metallic colors to go with dresses that are either black or have metallic details. She has worn silver heels on several occasions, both pump style and Mary Jane style. She has also worn copper-colored heels to important events. To her prom, she wore strappy silver heels.
Silver Accessories

Taylor loves accessorizing with silver jewelry items. She has carried silver handbags and worn silver shoes many times, but often it is her silver jewelry that gets the attention. She likes large silver earrings as well as long, thin silver necklaces. When she wears silver bracelets, she often piles them on in a way that is sure to get attention. She wears silver charm bracelets as well as large silver pendants on silver chains. She has large, thin silver hoop earrings that she has worn many times with many different outfits. She has a large silver heart that she has worn many times along with both casual wear and with dresses.
Occasionally, she will pair turquoise and silver together in her accessories. She loves turquoise and silver bracelets and necklaces and sometimes carries a silver handbag to match them. When paired with silver shoes, Taylor Swift can make any outfit memorable with her eye-catching accessories and feminine outfits.