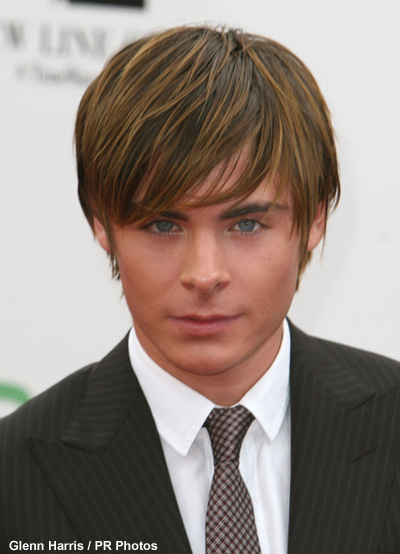 Zac Efron gained popularity as the male lead in the very popular Disney musical movies "High School Musical", versions 1, 2 and 3. Zac is a California born guy who despite being in his twenties is best known for playing a high school kid. He is a major heartthrob amongst teenage girls everywhere. His blue eyes and shaggy hair have been known to make quite a few tweens swoon. In fact, many teen boys want to be just like him because he is so desired by girls. Dressing like Zac Efron is a great starting point for Zac wannabes.
Zac is a very casual dresser. Many of his typical choices are T-shirts and jeans or even nice button down shirts with jeans. He often layers a button down shirt over a white tee for a casual all-American look. He also layers with lightweight jackets, like wind breakers. Occasionally, especially if trying to go incognito, Zac pulls on a hoodie. For a slightly less casual occasion, Zac also favors nice sweaters with V-necks or fitted button-down shirts.
He is conservative when it comes to colors and prints. Apart from printed T-shirts, Zac typically avoids prints. His color choices tend to lean towards the typical guy colors like blue, black, green and white. Zac tends to let his hair be the one style thing that stands out as his signature look.
Guys don't tend to use accessories like girls, however Zac is a fan of knit caps. He can sometimes be seen in other hat styles like fedoras. He also usually wears belts, even with jeans. Another accessory he sometimes grabs is the celebrity standby – dark shades. In terms of footwear, Zac Efron usually wears slip-on shoes and sneakers. He also uses vests as a favorite wardrobe accessory.
When going for a more formal look, Zac favors dark suits. A regular suit with a thin, dark tie offer a youthful but dressy look for special occasions. For the more formal affairs, he is quite comfortable in a black tux and bowtie. Despite dressing very casually on a regular basis, he can do dress-up well and looks great in a suit.
If you want to dress like Zac Efron or want your man to dress like him, having the right things in your wardrobe is the place to start. Invest in some white T-shirts to layer under shirts. Don't forget to get both crewneck and V-neck. Pick up a few other shirts in typical guy colors to wear alone. You can also opt for custom printing on some of the T-shirts. However, be sure to remember that Zac tends to choose simple geometric designs as opposed to words or anything flashy. Get some straight leg blue and black jeans, a hat or two and some shirts and light jackets for layering, as well as some nice button down fitted shirts for a dressier look. Now you are ready to get dressed.
Get your Zac Efron wardrobe necessities and in no time, you'll be swarmed by tween and teen girls wanting your autograph or at least a date.