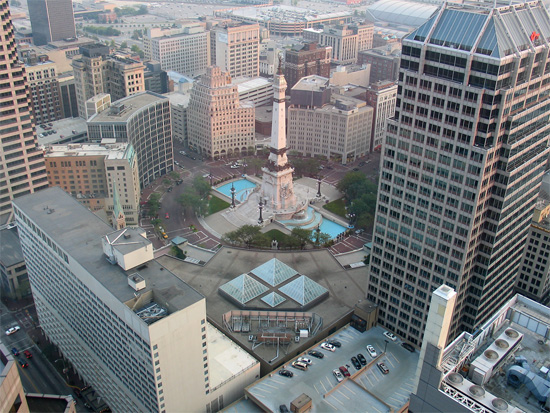 Indianapolis is home to one of the most exciting car races of the year. The Indianapolis 500 draws race fans from around the country. In fact this race is probably the thing that makes Indianapolis stand out for most people and is its best known feature. During race week, the fashion statement that most people make is a pair of shorts and a T-shirt rooting on their favorite racing team.
If you want to know what to wear in Indianapolis, your number one resource will be the weather forecast. The city gets four distinct seasons and you will need to dress appropriately for them. Summer experiences nice warm weather averaging mid-80s in the daytime. Spring and fall are comfortable seasons for spending time outside. You will find that it is much easier to dress for these seasons than for winter. However, spring can be a tricky season with huge temperature fluctuations in the same day. This fact reinforces the necessity of checking the weather.
Indianapolis is in the north part of the United States Midwest and receives its share of snow and cold weather. Because of the winter temperatures, it is important to equip yourself properly if you are going to the state in the winter. The things that are most important for anyone in Indianapolis to wear during the winter include a suitably warm winter jacket or coat, a hat, gloves or mittens and winter boots. Scarves, earmuffs and snowsuits are also good choices depending on what you plan to do and if you want to spend time outside.
Indianapolis is home to a large number of serious sports fans. There are several professional and semi-professional sports teams in the city, the two most prominent being the NFL's Indianapolis Colts and the NBA's Indiana Pacers. During the football season and basketball season especially, clothes sporting a team logo are commonly seen throughout the city.  During NCAA basketball tournaments that are held in Indianapolis, college team shirts are in abundance.
The city offers much in terms of cultural attractions and events. The arts are alive and well in Indianapolis, as is the music scene. Because of the prevalence of such influence and the fact that there are multiple colleges and universities in the city, fashion is a little bohemian in places. Many of the artists and college students put together eclectic looks from the used clothing stores and their own imagination. Jeans and T-shirts are commonly seen in much of the city, as they are throughout America. Layering is also a popular look and one that is very practical for changing temperatures.
Indianapolis is the state capital and as such has a large number of professional and government offices in the city. If you are visiting on business, chances are a business professional outfit will serve you well. If you know that the company you are visiting has a business casual environment, opt for a conservative look within that range. It is the Midwest, after all.
Enjoy Indianapolis and all it has to offer!