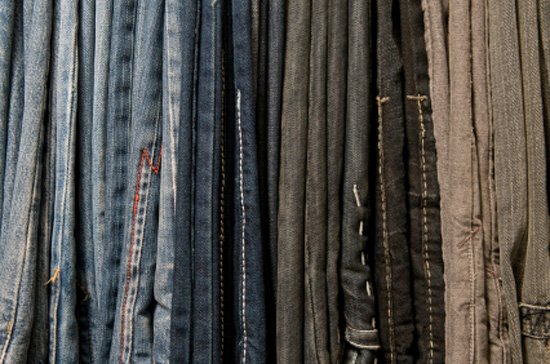 Chances are it has been a long time since you wore colored denim. In fact, your last memories of the style might be around the same time period that you wore leg warmers and a ponytail on the side. Fashion is all about cycles, and colored denim is slowly coming around for another day in the sun. The style first made its way back onto the style radar in Summer 2008, and has become increasingly popular since then. If you are one who likes to be on the cutting edge of fashion and you don't already own a pair of colored denim jeans, it's time to snap up this fun fashion trend.
Because of its high visibility factor, colored denim needs to be worn with caution. In past eras, colored denim has been big and super-baggy, but not anymore. For the colored denim jean to be in style today, it must be a skinny or very fitted cut. No bagginess, no drooping, no excuses. The skinny style ensures a minimal amount of fabric so the brightness of colored denim doesn't become overwhelming.
With a rainbow of colors to choose from, it can be difficult to know which denim color will meld best into your wardrobe. The most common colors seen among celebrities include yellow, pink, coral, bright blue, turquoise, mint green and red. Since colored denim is definitely a trend that will be here today and gone tomorrow, don't worry about getting a pair in every color. Instead, pick a couple of colors that you like and that will offer some options for coordination with current pieces you have. For example, a pair of turquoise jeans can be matched with a lighter turquoise top. If you don't have a top in a similar color as your jeans, or you prefer not to look like you spend too much time at the art studio, go with a neutral color such as white or beige.
Ladies, for a great basic colored denim jean, be sure to check out the Dollhouse Jean by Wet Seal. The best part about this style is they're priced at only $39.50, which means your pocketbook won't suffer because of this year's high-dollar trend. Colored denim is currently more popular among women's styles, but the trend is also making its way onto the men's racks, albeit in more subtle tones. Deep blue, gray, dark red and similar jewel tones have all been seen.
The shoes you wear with colored denim are also important. If you're going for a long and lean look, strap on some wedge sandals, espadrilles or plain old high heels. For a more casual look, try ballet flats or moccasins. As with tops, the color of your shoes should work with your colored denim; choose shoes that are within the same color range or go with a neutral color if you don't have that option.
Colored denim offers a refreshing alternative to basic blue, so have fun creating your own unique color combinations!