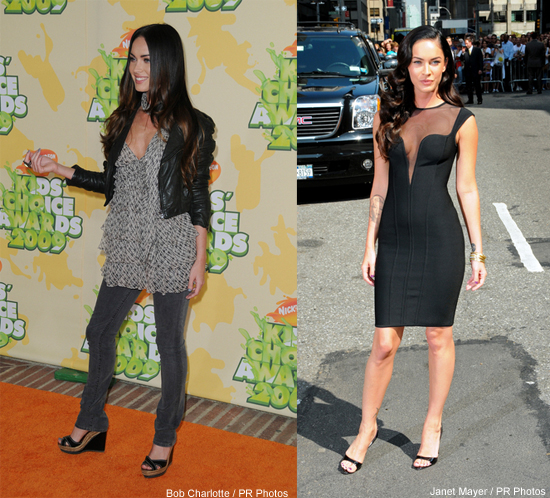 Film and television star Megan Fox has quickly risen to the status of fashion maven, especially since her leading role in the "Transformers" movies. This beautiful actress first started out as a teenage model, successfully modeling until breaking into acting in the early 2000's. Her chiseled, slim figure looks amazing in today's hottest looks, which is why numerous magazines have declared her to be one of the sexiest women in the world.
Fitted dresses. Megan Fox often appears in dresses, and the designs tend to be very similar. She prefers form-fitting styles that accentuate her chest and her toned body, and with lengths that are usually at or above the knee. Her dresses are usually strapless or spaghetti straps. They often have a very structured look due to underwire bras and seams, and the overall effect is always one of sexy strength. To pull off Megan's style, it's absolutely essential to be in shape and have a well-defined body. If you're not quite there yet, get ready to hit the gym for lots of weights and toning exercises.
Bright colors. Although she leans toward neutrals, Megan Fox still likes to experiment with bright pops of color in her wardrobe. Her dark brown hair and clear skin are the perfect backdrop for sizzling colors such as bright pink, orange, deep purple and turquoise.
Shiny fabrics. Megan Fox can often be found wearing lustrous fabrics in her dresses and tops. The extra shine plays off her long tresses for a truly beautiful effect. If you choose to wear a shiny fabric, be sure to wear minimal jewelry so as to not detract from the overall look.
High heels. On the red carpet, Megan Fox goes for the jugular in old-fashioned high heels. She's been known to wear very traditional styles such as peep-toed black leather Jimmy Choos, Courtney Crawford black patent slingbacks and Christian Louboutin Alti pumps, but she's not afraid to walk on the wild side of footwear either. Check out Megan's leopard print stilettos from Yves Saint Laurent, or the cagey Brian Atwood Lola snakeskin heels she's recently sported.
Casual comfort. When out to run errands or shop, Megan prefers jeans and t-shirts with a youthful vibe. She often wears skinny jeans in both regular and distressed finishes from designers such as Current Elliott, Diesel, True Religion and Siwy. If you want to try out the hot skinny jean look, go for a basic black pair that you can wear as a jean or under tunics in place of tights, such as the Siwy Hannah style. Or check out AG Adriano Goldschmied Stilt Cigarette Leg Jeans, a white jean style with great versatility. The lean look balances out longer tops, and flat shoes won't get lost underneath its narrow leg openings.
Sophisticated accessories. Megan Fox never overdoes the accessories. She prefers minimal jewelry, and will sometimes slip on a sassy hat when shopping outdoors. Like many Hollywood starlets, Megan enjoys sporting the latest designer handbag around town.