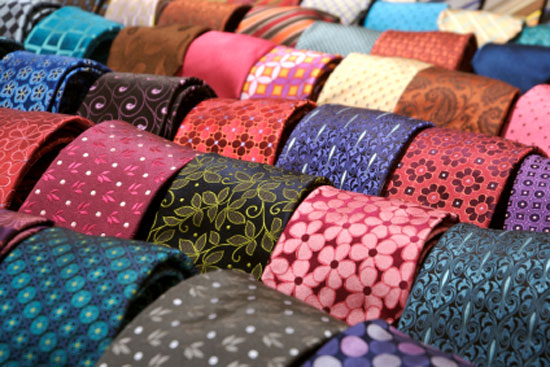 While picking out the right tie to match an ensemble is a talent that comes naturally to most wives and girlfriends, for a man this knack often proves elusive. Choosing a tie that will coordinate with your clothes and be appropriate for the occasion does require a bit of practice, so keep the following guidelines in mind.
1.    A tie should complement the colors of your ensemble, but not match them exactly. First, consider the dress shirt you will be wearing with the tie. A dark-colored tie would simply blend into a dark-colored shirt, so a tie in a light color would be a better choice. Conversely, a white or bright shirt should be toned down with a darker tie. Avoid wearing a striped tie with a striped dress shirt unless the pattern of the shirt is very subtle.
2.    Choose a patterned tie whose dominant color matches your trousers. For the color challenged, this is a safe way to ensure clothing coordinates appropriately. If the trousers you are wearing are navy blue, select a tie whose dominant color (the color that occupies the most space in the pattern) is also navy blue.
3.    Another trick is to choose a dress shirt that coordinates with one of the secondary colors of your tie (the colors that don't take up as much room in the pattern as the dominant colors). Find a dress shirt that matches one of these colors, and you will be well on your way to dressing like a fashion pro.
4.    Try doing a gradation of color by selecting a shirt and tie that are the same color, but in lighter or darker shades. For example, pair a light blue dress shirt with a medium blue tie.
5.    For business interviews and important meetings, keep your tie color classic and conservative. Dark blue and dark red ties are a conservative choice and look good on just about every man.
6.    Never wear ties with pictures or cartoons to work, unless you are working in an informal environment.
7.    Your choice of tie color can also reveal clues about your personality. If you would like to project a certain image (or avoid projecting a negative image), here are the underlying meanings of certain colors.
•    Red. Red communicates power, dominance and attention, hence the name "power tie." It makes you stand out from the crowd and establishes you as a leader ready to take on challenges.
•    Peach or pink. These colors convey good health and a positive attitude, and also have calming effects.
•    Black. A man who wears black assumes an air of authority, power and neatness. Due to its elegance and simplicity, black is a classic choice for formalwear, and for the man who always wants to be in style.
•    Gray. A gray tie conveys that its wearer is ambitious.
•   Blue. Blue is the right choice for a man who wants to appear sincere, calm and confident. Blue gives an impression of leadership which is more humble than red.
•    Yellow. Youth, hope and happiness are associated with this tie color.