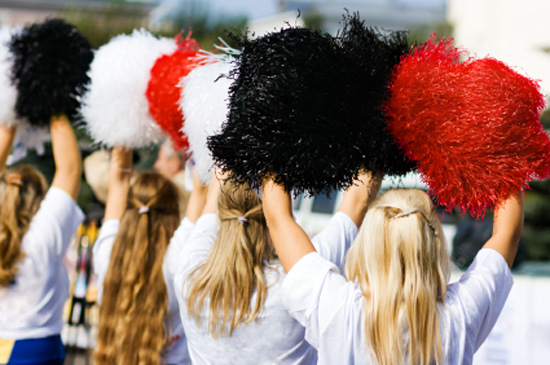 Cheerleading tryouts can be a tricky event to plan an outfit for. There are several aspects that need to be remembered during the planning. The first of these is that you will need plenty of freedom of movement in your outfit to be able to seamlessly do your planned tryout routine.
To have the most freedom of movement, try a short skirt that is like the cheerleading uniforms normally worn by the cheerleaders at your school. If you go the short skirt route, have something under them that will not make you limit your movements to keep your underwear from showing. You might wear a pair of bicycle shorts under them or a pair of dance bottoms that are often worn under cheerleading uniforms.
Another option is to wear a skort. A skort is a shirt and skirt combo that looks like a skirt in the front but is shorts underneath. This protects you from having your underwear showing, and it also allows you plenty of freedom of movement. Make sure the skort fits well so that it is not too tight to be able to do your maneuvers.
Just like your skirt or skort, your shirt must allow for plenty of freedom of movement. Many people choose a tank top so that they can move their arms quickly and show off all of their movements. Another tactic is to wear a spandex short because it is form fitting and yet allows you plenty of movement. Whatever type of top you wear, make sure it isn't baggy. The judges will need to see your movements to judge how well you can do the routine.
Another important consideration is your team spirit. The judges will want to see that you want to be a part of the team and that you want to represent your school. Wearing your school colors is a good way to show both to the judges. Choose your skirt and top carefully with your school colors under consideration. You don't have to show up wearing the colors from head to toe, but they should be represented in your outfit.
The shoes you wear should be athletic shoes that are clean and in good condition. The ideal color for your shoes is white so that they don't clash with your outfit or call too much attention to them. You want the judges' attention on you and your movements instead of on your shoes. Make sure the shoes aren't too heavy and cumbersome or they may make it harder to get through your routine. Try a lightweight shoe that is flexible enough to let you do your footwork easily.
Wear a ribbon or bow in your hair that corresponds to your school color. The ribbon or bow you choose should be large enough to be noticeable but not large enough so that it could make your head feel heavy or limit your movements. Tie it securely so that you don't have to worry about it coming loose during your routine and you'll be ready for tryouts