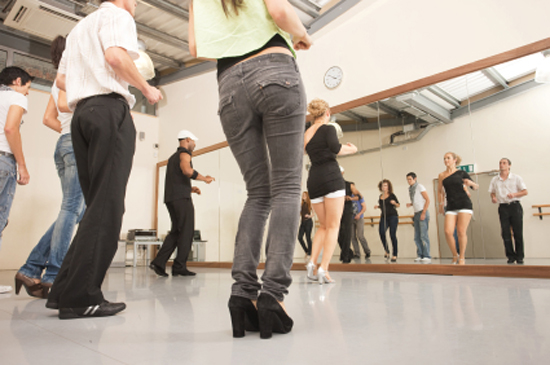 When you go salsa dancing you need to be sure that you not only dress to impress but that you also dress for functionality. The last thing you want to do is wear the wrong attire when salsa dancing because it could actually lead to an embarrassing moment or even an injury. The best rule of thumb is to call ahead to the salsa club that you will be attending and ask them if there is a certain dress code that they have as this is sometimes the case. More times than not though you can either dress to impress or go casual, it's really up to you.
Here are some things that you should consider before you go out for your next night of salsa dancing fun:
•    Shoes: Your shoes will be the most important thing that you wear. You need to have comfortable shoes that do not have a rubber sole. Ideally you will want to go with salsa shoes that have a suede bottom. This will allow for greater movement and not have you twisting your ankle when you move and grove at the club due to the rubber catching on the floor. Besides, most salsa clubs will not allow you to wear sneakers or shoes with rubber soles as they will mark up the floors.
•    Dresses and skirts for women: Women can wear any number of salsa skirts or dresses that come in a variety of fun colors and fashions. Most of these skirts are on the shorter side so if you feel like it may flip up during the night you may want to wear a short pair of shorts underneath.
•    Non dresses for women: In some clubs it will be acceptable for you ladies to wear jeans and halter tops. If you are wearing a halter top just be sure it has adequate coverage for when you do any dips or bending over while dancing. Your jeans should be a loose fit to allow you the maximum amount of movement. Whatever you do, leave the skinny jeans far behind.
•    Pants for the guys: Guys can come in pants or even in jeans but be sure that whatever it is you are wearing will leave you with a great deal of movement. If you wear pants that are too tight you will risk tearing them and that will only leave you embarrassed.
•    Shirts for guys: You will want to go with a short sleeved shirt that is made of a breathable material. Never wear long sleeves as this will leave you as hot as can be and eventually nothing more than a sweaty mess.
•    Colors: Go with darker colors for skirts and shirts that will show a bit of your wild side. Colors such as red, purple, dark blue, and even orange will stand out and have you looking your best.
Remember the key to salsa dancing is comfort. Yes you want to look good, but if you are not comfortable then even the best dressed person will fail to have a good time.