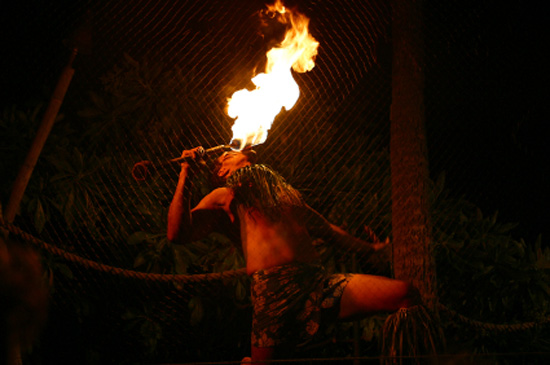 When you are getting ready to attend a luau the easiest thing to do is figure out what to wear. A luau is definitely the ultimate in casual where you are not only accepted if you wear a grass skirt, you are pretty much expected to do so.
Luaus are great fun and the fun you have can be enhanced by dressing the part. Of course how you dress will depend on what gender you are so here are some ways for everyone to tackle the luau look:
•    Men: Leave the suit and tie at home fellas because a luau calls for neither. A great outfit for a guy to wear to a luau starts with a comfortable pair of shorts. Any color you like fits the bill but the more colorful the better. If it is too chilly for shorts you can also wear a white pair of all cotton pants. For shirts you will definitely want to go with a Hawaiian shirt that has a wild pattern and very loud colors. It is also acceptable for the guys to go with no shirts at all so if you are brave enough to do so then go for it. You will want to get a handful of different color leis to go around your neck and you can also put a Hibiscus flower behind one ear to complete the look. When it comes to footwear go for ultra comfort and grab a pair of flip-flops.
•    Women: The ladies have a couple of different options when dressing for a luau. If you want the look of a traditional hula dancer then go for a grass skirt being worn over regular bikini bottoms and go with a coconut bra up top. Too revealing? You can also go for a long Hawaiian dress and just like with the guys, go for wild prints with loud colors. You too can wear a Hibiscus flower behind the ear, but beware because the ear you wear it behind tells of your marital status. If you wear the flower behind your left ear you are telling everyone that you are taken and if you wear it behind the right ear it means you are single. Flip-flops compliment either look and will keep you comfortable all night long. A floral anklet and lots of different colored leis completes the look.
•    Kids: Kids love the fun of a luau too. To dress them appropriately have the boys wear a matching outfit to dad with the same kind or shorts and shirt and the girls can either match mom or get any number of cute floral dresses that are available at almost any department store. The kids, like the adults, will need plenty of leis and flip-flops as well.
The biggest thing with attending a luau is to be sure that you wear what you will comfortable in and that you also wear a smile. If you are not having fun at a luau then there is definitely something wrong.