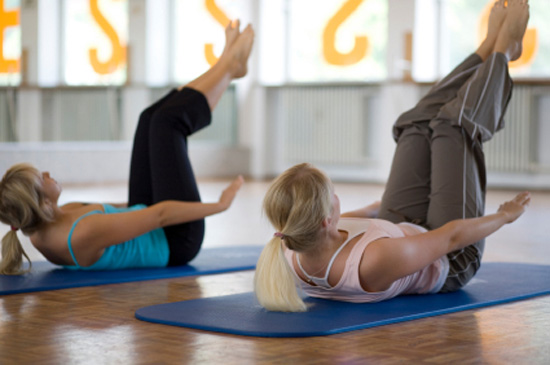 Pilates is a form of exercise that focuses on core strength to build balance in the body and flat abs to boot. Most people that do Pilates on an ongoing basis find that their overall strength increases as does their flexibility and the exercise is great for anyone regardless of age. To get the most out of Pilates, those who attend dress a certain way and if you have been thinking about taking Pilates up you too will need to know what to wear.
There is a wide range of acceptable clothing for Pilates and these articles of clothing can be found at many retailers and sports store across the country. Here is what you need to get started in Pilates:
•    Tops: Many people like to wear tank tops or shirts known as 'singlets' that are form fitting. This is fine, but it pays to consider just how much skin you will leave uncovered. Sweaty skin has a tendency to stick to the Pilates mat and that can make for an uncomfortable session. There are also a number of Pilates instructors that will give hands on tactical cues as part of their instruction and if you have a lot of skin exposed you risk the instructor touching your sweaty shoulder, back, or any other exposed body part. T-shirts work well but you must be sure that they are form fitting enough to stay in pace when you go upside-down on your mat. If you find that the Pilates studio you work out in is chilly, then wear layers such as ballet wrap tops. This way you can start out warm and shed some layers as you begin to heat your body up during the workout.
•    Pants: When you choose your pants for your Pilates workout you will want to go with form fitting. Yoga pants are a good choice here and will allow for maximum flexibility. If you go with another type of pants be sure there are no buckles or belts or anything else that can get caught up while performing the exercises. You also don't want to go with loose fitting because these will ride up when you are performing a good number of the moves that are executed during a Pilates session. Shorts are not typically worn but if you want to wear them then go with tight fitting bike shorts. You can also wear leggings underneath if you so desire.
•    Footwear: There are several different types of Pilates shoes that can be found at almost any sports store. You can also get toe-socks that are grippy on the bottom. Whatever you decide to go with be sure that it allows for maximum comfort and flexibility.
•    Hairstyle: If you have long hair you will want to wear it in a style that will keep it off your back. If your hair is short you may want to consider a headband so that your hair stays out of your eyes.
Pilates is great fun and great exercise and will be enjoyed even more when you dress appropriately.