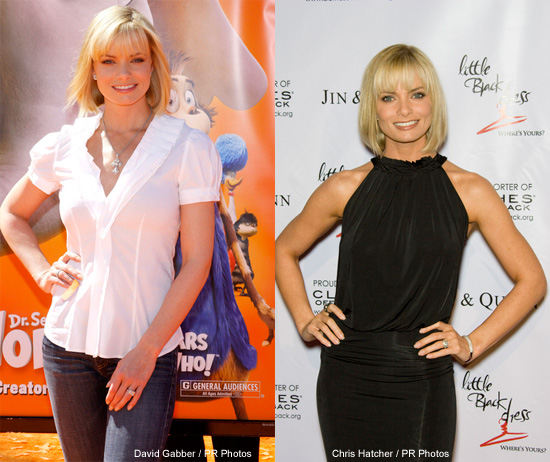 Jamie Pressley is perhaps one of the most versatile actresses performing today. She has done roles that portray her as a 'bimbo' and roles that require her to be serious. In 2007 Pressly was recognized for her accomplishments when she won an Emmy for Outstanding Supporting Actress in a Comedy Series for her work on the hit television show My Name is Earl.  Off the screen Pressly is one of the most beautiful and daring when it comes to fashion. She looks equally as good in a dress for an awards show as she does when she is dressed in her more familiar jeans and t-shirt.
One thing she is not afraid to do is be different which makes her style a fun one to emulate. Here are some ways you too can be daring in your style:
•    Shoes: This is the best place to start because Jamie Pressly is known for her huge variety of shoes. She used her shoes to show her feminine side very well and is often seen in high heels and strappy stiletto sandals. When choosing your shoes, go funky with the colors. Pressly is always daring in this department and you should feel free to be as well.
•    Jeans: When not performing, Pressly is often seen in jeans. When you go for your jeans choose the kind that sit more on the hips, also known as hip-huggers, and go a little on the tight side if you are comfortable doing so. Pressly always wears hip-huggers that are tight but then again her perfect body allows for it. As often as she wears solid blues and blacks, she can also be found wearing all sorts of multi colored denims, so again don't be afraid to get risky here.
•    Tops: Every once in a while you will find Pressly in a baby doll t-shirt, but more time than not the starlet will be sporting a tank top that is low cut and shows just a bit of her cleavage. Stay with lighter color tank tops and if you have the six-pack abs that she does you can employ the use of cropped tank tops as these are a favorite of hers.
•    Fancy: Even on the red carpet Pressly chooses to wear a dress that is cut to show off her shoulders and just a hint of cleavage. When you go formal, go with darker colors like grays and black and you can go full length or knee length on the dress as Pressly wears both. Don't go too baggy with the dress as Pressly always wears form fitting dresses to her formal events.

•    Accessories: If you choose to accessorize, less is more. Pressly rarely wears anything other than simple earrings and a simple gold chain from time to time.
•    Hair and make-up: Do your hair in simple fun way whether it is long or short. Pressly does use quite a bit of make-up but applies it in a very tasteful manner. If you are not comfortable applying extra make-up have someone at the mall show you how to do it.
When mimicking Pressly's style remember to experiment as much as you like, don't be afraid to get a little funky, and above all else, have fun.