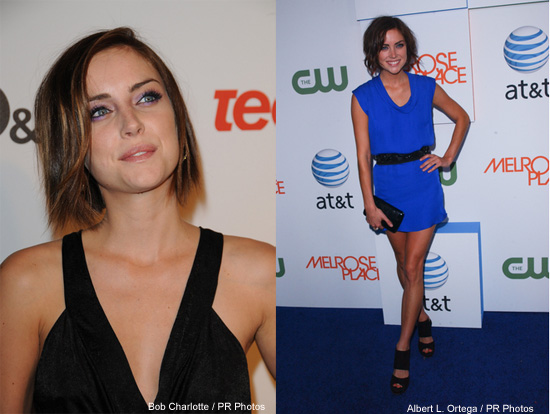 Jessica Stroup is probably best known for her role as Erin Siler on the spin-off show from the original Beverly Hills 90210 called 90210. She was born and raised in the Carolinas and has the knock out looks and personality that you would expect from a southern girl. She has a fun and simplistic style and seems to always look her best whether she is just out and about or at a red carpet event.
In order for you to dress like Stroup you have to have the ability to segway from one outfit to the next and look good in all of them as Stroup has a wide variety of outfits that she likes to wear. Here are some ways that to help you dress like Jessica Stroup:
•    Casual: When Stroup goes casual she goes casual. When not on the set or in the public eye she dresses like any other early twenties woman would. She loves to wear jeans and a regular looking t-shirt and the style and colors of the t-shirts can vary greatly so pick a shirt that you like and that you will comfortable in. She usually sticks with blue jeans and they are always on the tight side. If you don't want to go tight, at least go form-fitting. If you like you can top off the shirt with a zip up sweat jacket of a darker color as Stroup often does. When accessorizing this look take the easy route. All Stroup generally accessorizes this laid back look with is a simple purse and some sunglasses.
•    Dresses and skirts: More times than not you can find Stroup wearing an almost endless variety of dresses and skirts. She wears dresses that are short, long, form fitting, tight, you name, and she has worn it. Knowing that you can choose a dress that compliments your body type best and that you feel comfortable in. Go with violets, grays, black, and blues for your color selection and try to stay with solid colors as opposed to multi-colored.
•    Formal: When Stroup hits the red carpet, people know it. She looks stunning when attending these types of events and usually wears a tight fitting dress that compliments her curves very nicely. Her formal dresses are usually darker colors and she likes to accessorize quite a bit at these events. To mimic this you will want to go with bracelets, hoop or hanging earrings, and an elegant gold necklace with a pendant on it.
•    Shoes: Of course the shoe Stroup goes with depends on what she is wearing and your choice should be no different. When going casual a nice pair o flip-flops will work. For the dresses and skirts you can be like Stroup and go with fun and sassy heels that are usually open-toed. When attending your special event go with the classic look of a closed-toe heel that matches the dress color.
•    Hair and make-up: You can wear your hair up or down as Stroup is a fan of both but go simplistic either way you do it. For you make-up application, go light and try to achieve the all-natural look.
Now go out with confidence and you too will have everyone believing you came from Beverly Hills, or at least the set of the show.