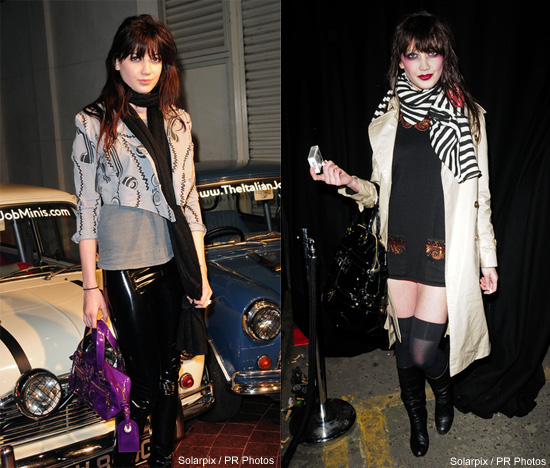 Daisy Lowe is a British model who is barely 20 years old. The brunette beauty started modeling at age 2. She is the daughter of musician Gavin Rossdale, who is presently married to Gwen Stefani, and Pearl Lowe, a one-time singer/songwriter who became a fashion and textile designer. She is currently dating a rock band member. She has become the face of multiple designer's lines in recent years. One of the popular British "It" girls, Daisy Lowe has a much more girl next door look and her personal style is much more mainstream than some of her counterparts.
Daisy Lowe has a very young style when it comes to fashion. However, it is very reminiscent of 1980's styles. She wears oversized T-shirts with colorful prints, paired with a blazer and shiny leggings. She wears a lot of black. The white T-shirt with the colorful prints are what brings the only bit of color to the look. It is a very easy to duplicate style and can easily appeal to the masses.
She is a big fan of short dresses. Daisy Lowe tends to lean towards black and white prints and geometric prints in multiple colors. She favors strapless dresses and has opted for some pretty terrible looks. She also likes to choose brilliantly colored short dresses that capture attention. Her short dresses are fun and great for going out.
Daisy loves accessories like oversized glasses and oversized bags. High heels are one of her favorites. She also likes high heel boots. Daisy Lowe still looks like a little girl from time to time, but her reputation and some of her pictures establish that she is truly not a little girl anymore. She tends to choose rather risqué ensembles and is actually known as being a bad girl. Daisy's personal style is not heavily accessorized like many of her contemporaries. A simple unadorned look is just perfect for so many girls, especially at that age.
If you want to dress like Daisy Lowe, it is actually pretty easy. You will need to invest in some skinny jeans and dark blazers. Order a variety of white T-shirts and have them custom-printed with any colorful image you like. You can put an actual picture on the front or something you designed yourself or you can choose a design to have permanently attached to the shirt. This look paired with flat shoes makes a typical look from the 80's that is popular with Daisy Lowe.
For special events you will need to get into a black form fitting gown or a very short dress. If you choose the short dress, pairing it with black tights will take it from trashy to acceptable easily.
To complete your Daisy Lowe experience means going for the whole look. Heavy bangs in her hair are Daisy's signature look. She also has a fondness of dark, blackberry colored lipstick. With dark rimmed eyes, the look is pure sex. Get your Daisy Lowe fashions today and create her look in no time.