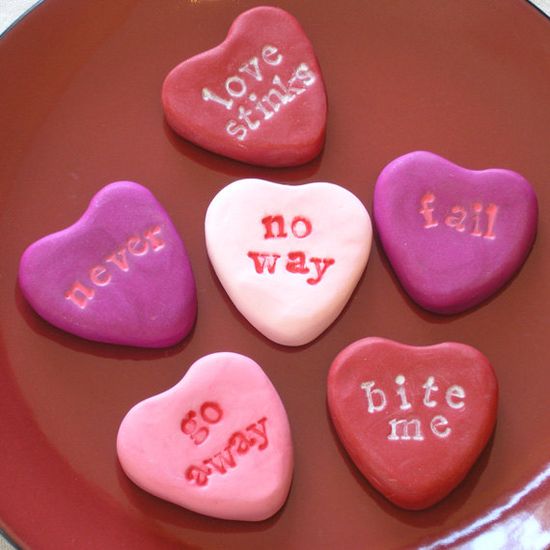 Happy Anti Valentine's Day!
Let's face it. Not everyone is in love or part of a twosome, couple, better half or long- term relationship. While Valentine's Day is for lovers, a growing trend in recent years has been for singles and those otherwise 'unattached' to literally boycott Valentine's Day. All done in good fun, the fad seems to be taking not only the United States, but also the world, by storm.
Every February 14th, lovers and couples around the United States enjoy receiving and giving cards that gush romantic poems, flowers and candy, stuffed animals and any other treats and goodies that millions of Americans purchase every year. However, doing so leaves singles out of the day's festivities. Recently, typical American wit and subtle and humorous sarcasm entered the mix. Greeting cards that glorify singleness are hitting the card shelves, and one of America's largest greeting card manufacturers, American Greetings, has added nearly a dozen 'Anti Valentine's Day' cards to their lineup. Whether attached or not, men and women of all ages want to be able to participate in the traditional holiday, but are, depending on how you look at it, fortunate or unfortunate not to have someone to celebrate the day of couples with.
Greeting card companies are also leaning toward providing picky Americans with less sentimental cards meant only for lovers and couples, adding cards which are more suited to close friends rather than soul mates. Hallmark Cards, another leading manufacturer of greeting cards, has offered humorous Valentine's Day offerings for years and believes the trend toward more subtle Valentine wishes is due largely to the types of television shows aired today. Today's couples and almost-couples are leaning away from traditional, syrupy offerings and go for humor and generic, friendship-geared cards.
Valentine's Day is an important day for florists, candy and greeting card companies. It's a day when money is exchanged in bulk. Companies have spent decades building many holidays to their benefits, which is natural and to be expected, but you can bet that they are watching the trend toward celebrating individuality and singleness rather than just focusing their attentions on couples. Young people are a major portion of Valentine's Day marketing endeavors, and 21st century lovers are not what they used to be in the 19th century. Every year, greeting card companies sell nearly 200 million Valentine's cards alone, and while some of those are the cards purchased by school children, the vast majority is not. Even American Greetings Card Company states that their biggest sellers are cynical humor offerings, which seem to appeal to the younger crowd.
Many Americans are protesting the consumerism that is involved in so many holiday festivities and customs, and for them, Anti Valentine's Day is a day to protest such a rampant trend. They refuse to purchase due to peer pressure and expectations and do their own thing instead. They utilize popular online card company offerings to save paper, or purchase cards from local artists, shunning the huge card conglomerates.
A disturbing trend? Perhaps. However, Americans have always enjoyed testing boundaries and customs, and perhaps Valentine's Day is no different. Why not mix up the rule? Is there any law against change? What started off as a joke for some unattached men and women in America has become a new trend in marketing holiday traditions. While February 14th will always be a day for lovers, the future also sees it as being a day that celebrates singles and friends and relationships that are not quite at the level of making that everlasting commitment. Whether you celebrate Valentine's Day with your better half or alone, take heart in the fact that America, and Americans around the country, will be celebrating with you.