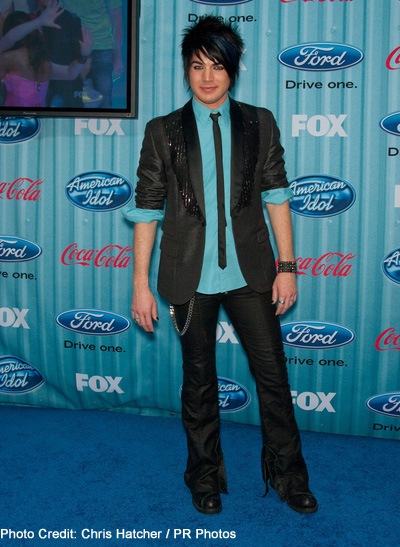 Since the beginning of Season 8 of American Idol, Los Angeles native Adam Lambert has shaken things up. The 26-year-old complements his incredible vocals with a personalized style that's part sophisticated, part punk, and all cool.
Adam began singing and performing at the age of 10, so he's had lots of time to perfect his unique image. Recently he was hired as a cast member and understudy for the role of Fiyero in the national tour of the Broadway hit musical "Wicked." In 2004, Adam portrayed the role of Joshua in the pop-rock version of "The Ten Commandments" which ran briefly at the Kodak Theatre in Los Angeles. While that opera did not sit well with critics, Adam still managed to catch the eye of a reviewer who noticed that he was the production's "most consistent crowd-wower."
Even if you don't have Adam Lambert's amazing singing talent, grand stage presence and overall charm, you can still dress the part. Here are a few tips for how to knock off his polished, theatre-inspired look.
•    Mix it up with interesting layers and textures. From leather to clunky metals to silky scarves, the Adam look is all about pushing the envelope. Experiment with your own combination of clothing and accessories, such as mixing Goth-inspired jewelry with a velvet jacket and leather cowboy boots.
•    Tight jeans. They're not 80's spandex jeans, but they're close. Check out your local department store to see if they have skinny styles in the men's department. Adam even sported a more classic look, white Levi's 501® Originals, when he performed "Mad World" on American Idol.
•    Tailored jackets. A boxy yet tailored jacket gives Adam lots of bulk on top, setting off those well-fitted jeans below. Just stick to black or neutral colors.
•    Retro suits. A tailored suit with a somewhat vintage styling is perfect when performing Adam's smash vocals. Check out this Just Cavalli suit.
•    Metallic jewelry and punk accessories. Raid the thrift store for chunky vintage necklaces, rings and interesting bracelets. Leather is a popular punk look, such as this pair of black fingerless gloves that scream Adam. Zipper details are great too.
•    Big hair. While Adam's ironed and dyed locks may take a while to catch on among the manly man crowd, the Adam look won't be complete without some sort of bedhead going on. Slap on some gel and tousle your hair up, and you'll be well on your way. Just don't try the Elvis look unless you're headed to a Vegas lounge or a costume party.
•    Makeup. Guyliner and "man"scara in blackest black are essential to achieve the complete Adam Lambert imitation. And don't even think about leaving home without the black nail polish.