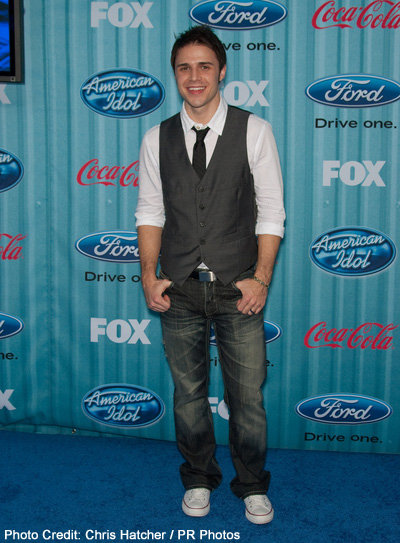 American Idol contestant Kris Allen has developed his own fashion style while making his way to the top of the AI finalist list. His wardrobe blends traditional college frat boy with polished professional, resulting in a hip look worthy of emulation.
Kris' wardrobe choices certainly contrast with those of his fellow Idol rocker, Adam Lambert, making him stand out as the handsome all-American rocker. While Adam seems to channel his inspiration from a creepy combination of Boy George, Trent Reznor and Raoul from "Phantom of the Opera," Kris Allen's style is much more approachable. He's the hot guy on campus with just the right touch of rebel, which is what you'd expect from a 23-year-old student at the University of Central Arkansas who has been singing and playing guitar since he was 13. He's someone you wouldn't mind taking home to meet the parents. Adam, on the other hand, would be best left at the rock concert.
So how do you imitate Kris Allen's laidback yet polished style? It shouldn't be hard for most guys who visit Gap, Abercrombie and American Eagle occasionally, as long as they're willing to throw a little James Dean into the mix.
Tailored jackets. Tailored jackets are an essential part of the Kris Allen look, whether paired with a simple t-shirt or over a white shirt for a more dressed-up look.
Well-fitted jeans with an edge. Most guys buy their jeans too big, so they never get to show off that really great masculine shape that comes from a slimmer jean that fits in all the right places. Kris's style is complemented perfectly by great jeans, such as the pair of Joe's Jeans he wore on a recent episode of American Idol. The distressing on the jeans adds a bit of edge to the look, and contrasts with his cleaner wardrobe selections.
Button-up shirts. The button-up shirt in various styles and patterns adds a clean look to Kris's style.
Fun t-shirts. No college kid can live without them, and Kris's look includes layers using tees with interesting patterns and logos. Try different necklines under button-ups for various style combinations.
Minimal accessories. A modest necklace and maybe a bracelet or two will enough jewelry to finish off the Kris look.
Cool shoes. Sneakers, boots and anything that works for a cool college guy will coordinate with Kris's look.
Messy hair. Kris's tousled hair can work for any guy. Just let the hair grow out a bit and leave it all one length, with a bit of extra length on the sideburns, then add gel and mess it up. It's a simple, foolproof look that wins over the ladies every time.