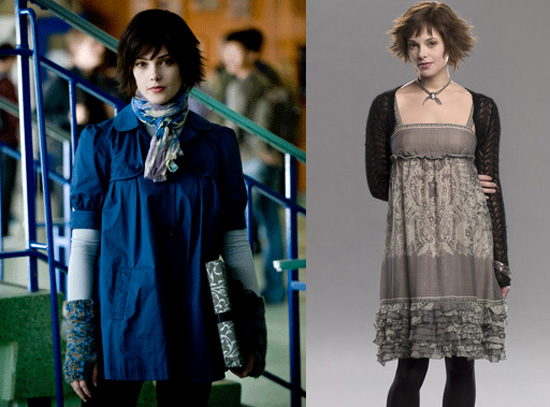 The movie Twilight took the world by storm and was more popular than anyone could have anticipated. One of the main characters in the movie Twilight was Alice Cullen who uses her unique clairvoyant abilities to foresee further events to help Bella when she is in danger. The character of Alice is so popular that more and more you can see women trying to emulate the look of her.
When you too are ready to dress like this future fortune teller, you only have to know two things; dresses and jeans. Her look, though unique, is certainly not a hard one to follow. Here is what you need to know if you want to look like Alice:
•    Dresses: Alice loves dresses, but not just any style will do. Alice opts for the darker colors of the spectrum and the dresses are either strapless or sleeveless. There are a few acceptations to the rule, but if you want to nail her look every time, opt for colors such as grays, blacks, dark blues, dark purples, and other dark colors. The trick is to keep them dark colored and go with a solid color dress. A multicolored dress may look great on you, but it certainly won't have you looking like Alice. Alice often wears black or dark colored tights under her dresses and if you choose to do so it is an easy way to add to the look.
•    Jeans: Again you want to opt for dark colors. Most of the time Alice's jeans are a lighter gray but there are other times where she wears black. One thing is for sure and that is you will never find her in a typical pair of blue jeans. The jeans should be form fitting but not too tight and whatever you do stay away from skinny jeans.
•    Shirts: If you are opting for the jeans look then you need to know what type of shirt to wear. Alice almost always goes for the traditional white long sleeved button down shirt topped off with a dark grey or black vest. If she is wearing anything else shirt wise it will then probably be a darker color and is always going to be long sleeved.
•    Shoes: No matter what she is wearing, Alice is usually wearing the same type of shoes. These shoes are black and are a sort of ballet slipper looking shoe.
•    Accessories: Alice likes to wear choker style necklaces and little else. If you do choose to wear earrings, make sure they are low key and simple as Alice never wears flashy or gaudy.
•    Hair and make-up: Alice wears her hair short and funky. To pull off the look, wear your hair short as well and give it extra lift and body using firm holding gels and hairsprays. When applying your makeup go with darker colors as this adds to the Cullen effect.
Again, dressing like Alice Cullen is not that hard to do, but once you do you will be dressing in a unique new fashion that is all Alice's own.