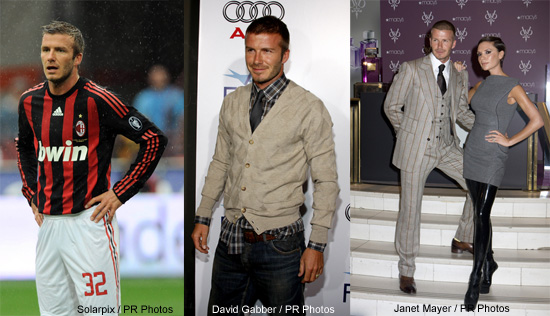 David Beckham is an international superstar and sex symbol. An English "footballer", or soccer player, he is known as much for his good looks and his marriage to Posh Spice (Victoria Beckham) as he is for his athletic ability. David Beckham is one of those stars that both men and women are drawn to.
David Beckham's style is varied and always trendy. His fashion runs the gamut from soccer jersey and shorts to high fashion with designer labels. To dress like David Beckham can be challenging but can also be a lot of fun!
To dress like David Beckham the athlete is the easiest place to start. He currently plays for the Los Angeles Galaxy so a Galaxy jersey would be essential. Along with the jersey you should wear matching shorts, white socks, shin guards and soccer cleats. When not playing in a soccer game, David will often wear athletic apparel such as a sweat suit made by Adidas, one of his many sponsors. Any of these items can be found at any sporting goods store.
While dressing like David Beckham the soccer player would be fun and good for costume parties or Halloween, dressing like David Beckham the style icon can be more challenging with a lot more variety.
The first and most important component of the David Beckham look is his hair. David's hair is generally blonde with a sexy tousled look, which you can do on your own by putting styling gel in your hands, grabbing your hair, and sort of scooping it toward the middle to create a bit of a faux hawk. David has also been known to shave his head down to just stubble. Whichever look works best for you is what you should go with. You could also opt for a wig to try to duplicate his blonde locks.
The next thing to consider when dressing like David Beckham are his numerous tattoos. He is known for a number of tattoos including ones of his children and his wife. If you don't feel like making that kind of commitment to imitate his look you can choose to apply temporary tattoos.
Finally, when dressing like David Beckham, go with layers! David loves to layer his clothes. Start with a pair of jeans or dress slacks that really fit your body. Add a dress shirt or t-shirt that also fit. On top of the shirt put on a vest or a sweater that coordinate with the pants and shirt. For a more formal look add a tie or an overcoat. Add a coordinating belt, a trendy pair of shoes and a cool pair of sunglasses and you've got the look!
David Beckham is a celebrity with his own style. He is known the world over for his looks, but dressing like him can be just a matter of picking a few simple items. Whether going for the soccer player look or the stylish look, dressing like David Beckham is simple and fun!