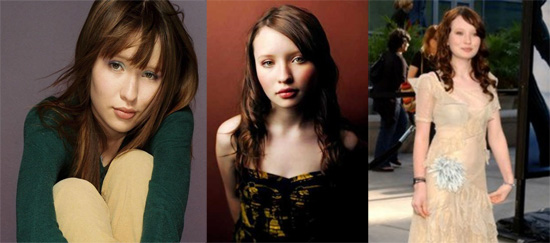 Emily Browning is a 20 year old actress who was born in Australia and is best known for her part as Violet Baudelaire in the hit movie Lemony Snicket's A Series of Unfortunate Events. Her latest role has her playing a part in the movie Uninvited and it seems that this young actress's career is going to go ahead full throttle. Browning has an elegant yet simple way of dressing and for the many women that admire her, looking like her really isn't all that hard.
Browning does not dress that much differently than the average woman might which makes her style an easy one to copy. Here are the different ways that you too can emulate this Hollywood starlet:
•    Short dresses: Browning is a big fan of short dresses. She seems to wear these the most when she is not filming and they range in style from strapless to sleeveless. She seems to prefer lighter colors such as white and beige but she has also been known to sport a black dress or two. When choosing your dresses you want to make sure that they don't come down too far and should never go below just above the knees. While you can go longer if you wish, that won't be accomplishing the Browning look.
•    Jeans and shirts: Another favorite way that Browning has to dress is in good old jeans and t-shirts. She seems to like what many of the younger crowd these days does and goes for skinny jeans much of the time. If you do not like skinny jeans, then a pair of tight fitting jeans will certainly do the trick. Her t-shirts tend to be plain so if it is hot out you can go with a plain white shirt or any other color on the lighter side of the color spectrum. When it is cold out you can do what Browning does and go for a multicolored sweater or even a solid colored long sleeved shirt. Unfortunately there is just no getting away from those skinny jeans.
•    Shoes: Lace up style heels are Browning's pick of the litter when it comes to shoes. No matter what she is wearing these types of heels will accompany the outfit. She always matches the color of the shoes with the outfit as should you but again; make sure that you are in heels.
•    Accessories: Browning doesn't really go all out in this department. If you do decide to accessorize you should take a page out of Browning's book and go very low profile. Aside of some bracelets and maybe a nice toned down pair of earrings; Browning is seen in little else.
•    Hair and make-up: Browning is about 50/50 when it comes to putting her hair up and leaving it down. Either way, her straight hair makes for an easy going hair style so when you do your hair, don't go crazy with the gels and the hair spray. Simple is better. As for make-up you should go for a more natural look on most fronts. The exception here is the lips. While she doesn't go with fire red, Browning is a bit bold on the color she chooses for her lip stick. Feel free to accentuate your lips as well, just don't go overboard.
Now you are set to go out and conquer the world looking like Emily Browning, the confidence, well that's up to you.