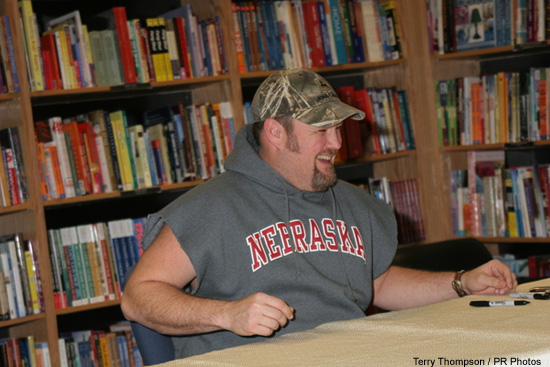 For years now he has captured the hearts of Americans everywhere with his catch phrase, 'Git er done.' Larry the Cable Guy has made a career out of dressing and acting like a stereotypical man from the south, or what he likes to call a 'redneck.' His style is definitely not hard to replicate and what's so great about it is that there are so many men that can easily relate to Larry because he is just a regular looking guy.
Larry the Cable Guy's ensemble never changes and here is what you need to achieve his look:
•    Shirt: Get a red and black flannel shirt and cut off the sleeves at the shoulders. This is Larry's signature top and he is seen in it everywhere he goes. Make sure not to wear an undershirt as Larry never does, and make sure that the flannel is one size too small. This adds to the 'redneck' effect as it not only looks tighter, but will often expose part of your belly and if you have a 'beer belly' like Larry, then it adds to the shock value.

•    Jeans: Blue jeans are an absolute must with this look. Don't go loose fit or boot cut and by all means stay far, far away from skinny jeans. Choose a pair of jeans that are tight but that will allow you to move. Larry always seems to stuff himself into jeans that may not be the loosest on him.
•    Belt: A black belt does the trick here but don't forget the belt buckle. The belt buckle should be very big and very gaudy. A great place to pick one of these hilarious belt buckles up is at a highway truck stop. When it comes to your belt buckle, the bigger, the better.

•    Shoes: Larry is always in work boots that are a dark tan color. These can be found at any department store. When you put them on, don't worry about your jeans covering the boots, rather just let the jeans bunch up, that's what Larry does.

•    Cap: Don't just grab any old baseball cap and call it a day here. You need to get a trucker cap or one that looks like it. The front half of the cap should be made of a bad polyester material and the back half of the cap should be mess. When you find the perfect cap, don't forget to form the bill so that the sides are pointing straight down. The result should be a bill that is more squared off rather than rounded off.

•    Accessories: A wallet with a chain works great with this look and you can finish off the look with a can of dipping tobacco in your back pocket and a pack of cigarettes in your front flannel pocket and the look is complete. If you don't smoke or dip, don't worry as it is not known for sure if Larry does either. It just adds to the image.
Now practice your southern accent and holler, 'Git er done,' every chance you get and your transformation into Larry the Cable Guy will be a big success.