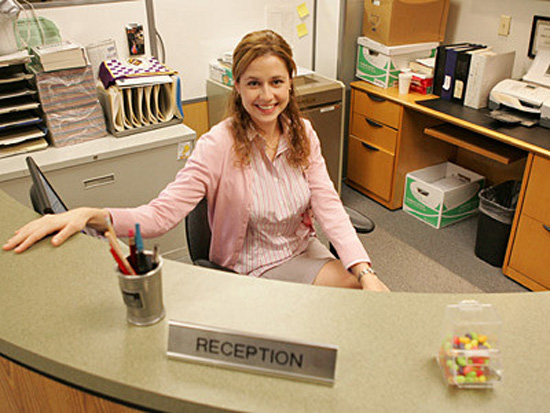 One of the most popular television shows in the last couple of years is The Office. Pam Beesly, played by actress Jenna Fischer, is one of the main characters on the show. Pam is the frustrated receptionist-turned-salesperson at the fictional paper company Dunder Mifflin. Pam is engaged to her coworker, Jim Halpert, a salesman at Dunder Mifflin. She is often the calm voice of reason in a workplace filled with drama. She is an understated, yet pivotal character on the show.
Pam is one of the most popular characters on The Office. Her simple attire and modest style help to show that though she appears unassuming, she's actually a complex individual. Dressing like Pam from The Office is really simple for that reason. Just follow a few simple steps to get the look.
Pam's office wear is very basic. You can start with a simple cotton button down shirt. Try for a simple pattern or a solid color. Make sure the shirt fits properly. Pam does not wear loose or baggy clothes. She seems understated but has a great figure and her clothes work to show that off in a very subtle way. You can find something like this at most women's clothing stores or department stores such as Kohl's or Macy's.
On top of the shirt you can add a simple, cute cardigan. Pam often wears a cardigan in colors like soft pink or gray. In the winter you can wear a cozy turtleneck sweater instead of a cardigan. Add a Christmas brooch during the holiday season to add some extra Pam style to the outfit.
The next thing you need to dress like Pam from The Office is a modest skirt. Go for a basic color like gray or black. Make sure it fits! The skirt should come down to just below your knee. A pencil skirt would be perfect and can be found in most department stores.
Pam always wears pantyhose! It's probably in the Dunder Mifflin dress code. So make sure you wear nude panty hose. Pair the hose with some sensible, basic dress shoes and you've almost completed the look.
One of Pam's defining style elements is her hair. It's basic medium brown and almost always worn in a half-up style. To get this look simply pull back your hair on both sides, leaving the back down and long, and put in a clip or barrette in the back to secure it. Leave the bangs long and out of the clip but tucked behind your ear. Don't style the hair too much before pinning it up as Pam's hair generally looks a little wavy and under styled.
Pam Beesly is a classic character with a super simple style that's easy to duplicate with only a few simple pieces. Put them together in the right pairings and you can pull it off in no time! It's easy to dress like Pam Beesly with the right outfit.