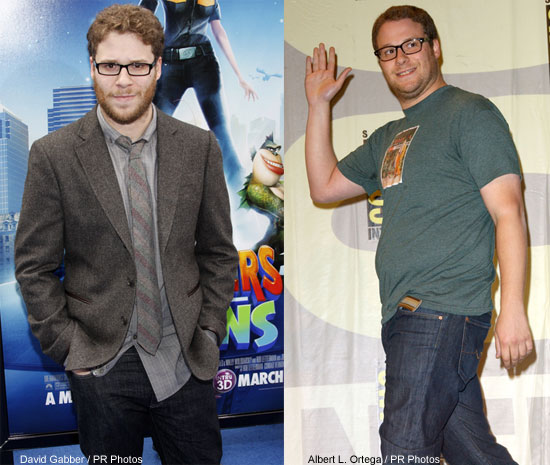 Seth Rogen is a casual dresser who has perfected the geek-chic look with a variety of casual and dress looks that have an unhurried, comfortable look. To get his look for casual dressing probably won't require buying a lot of new clothes. Most people have the basic pieces of Seth Rogen's look in their wardrobe already. It's just a matter of putting them together the right way to create the look that Seth Rogen has made famous.
Shirts
When you start your Seth Rogen look, start with the layered t-shirt and over shirt look. The t-shirt should be either a light or dark color like dark blue, deep red or purple. The over shirt should be a button-up shirt with a geek-chic pattern on it. One of the ones that he wears most often is a shirt with gray or blue vertical stripes on a white background.
Leave one top button on the over shirt undone so that the very top if your t-shirt shows over the striped shirt. Keep both the t-shirt and the over shirt untucked, even if the t-shirt is longer than the over shirt. This is a real Seth Rogen look that gives the outfit a very casual, unplanned appearance.
Jeans
If you want a real Seth Rogen look, wear your most comfortable pair of jeans. You don't have to buy a designer pair of jeans to get his look. Any brand of jeans will do. Just make sure that the pair you choose will fit loosely. Seth Rogen's jeans always have a high waist, and they always fit loosely. If your jeans are faded, this will be an even better Seth Rogen look. Many of his jeans are faded and have some frayed edges. While he doesn't wear jeans that are torn up or stained, he does wear jeans that look very lived in.
Suits
Though he is mostly known for his casual look, he also wears suits when the occasion calls for it. The suits he wears follow in his geek-chic pattern, borrowing from retro styles and out-of-fashion colors. This look relies on the vintage style that is gaining in popularity with young Hollywood men.
Instead of a modern suit with narrow lapels and a dark blue or gray color, choose a dark brown color that borrows its styling from the suits of the 70s. The lapels should be wide, just like suits from the 70s, and it should be loose fitting.
You may be able to find a vintage suit that has all of this styling. Look for one that is about one size larger than you would normally wear in order to get the loose-fitting look that Seth Rogen wears. Wear dark brown or black leather shoes with your suit.
When you choose your tie, the 70s are also the guiding style. Choose wide vintage or vintage-style ties that have diagonal stripes. Look for ties that have brown and gold or brown and green stripes in order to get an authentic Seth Rogen look.