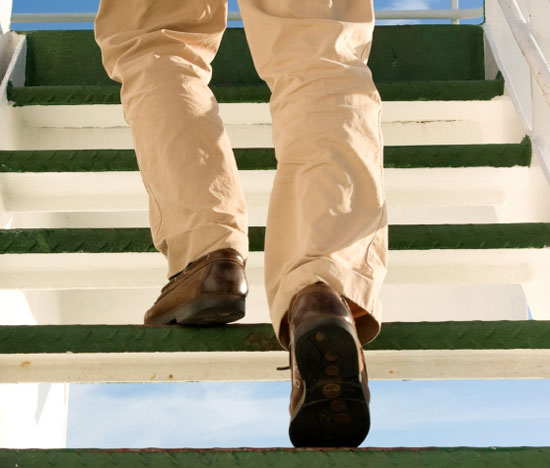 Khaki pants are one of those wonderful fashion staples that you can always count on. While the style of khaki pants may change slightly now and then, such as flat-fronts versus pleats or fitted versus loose, it's safe to say that khakis will never be shunned from the modern casual wardrobe.
The word "khaki" can refer to both the fabric and the color of the fabric. The term came into the English language via India, and has its roots in a Hindi word meaning "dust-colored" or "earth-colored." The British Indian Army adopted khaki uniforms for service in the mid- to late-1800's due to the material's lightweight texture and cooling properties. The first khaki fabrics were a blend of cotton and linen that were light tan in color, but darker shades later became popular as well. Khaki is now the official uniform of military forces around the world, including the United States Navy and the United States Marine Corps, as well as many police forces worldwide.
Khaki is also the informally adopted uniform for business casual wearers everywhere. It's an easy, comfortable style that goes with just about anything. Here are some ideas for how to wear khaki and look stylish while doing it.
•    For a relaxed business casual look, pair your khaki pants with a button-up oxford-type shirt or a classic collared polo shirt. Add a coordinating belt and you're ready to go in style.
•    Another idea for classic business casual is to pair your khakis with a crisp, white dress shirt with the sleeves rolled up. Leave the tie at home, and you'll be both chic and comfortable. Don't forget a nice belt, and be sure to match your shoes with your belt color.
•    Khakis are available in many more styles than just pants. Try khaki shorts, cropped pant khakis, Bermuda shorts and skirts for ultimate versatility.
•    Don't wear the classic tan khaki exclusively. Khakis come in a wide range of colors, including olive, brown, green and navy. Experiment with different styles of khakis in various colors.
•    Polish your khaki by adding preppy items such as a v-neck sweater and a blazer. The look will offer a hint of schoolboy charm while still being classy enough for work or a nice restaurant.
•    As with any nice pant, avoid wearing white socks with your khakis, especially white socks with sandals. This will scream geek. Instead, choose socks that are the same shade as your shoes so they will blend well.
•    The type of shoes you wear can go a long way toward making your khakis appear casual or dressy. Wear leather loafers with your khakis when the dress is business casual. A dark brown loafer will almost always look great with khakis, while black can be worn with a black shirt and black belt. To dress down your khakis, wear them with a pair of canvas sneakers.
•    Women can pair khakis with a pretty blouse and casual sandals for running errands, while men may pair a casual khaki pant or shorts with a nice t-shirt and sandals. However, ladies should avoid high heels and other dressy shoes when wearing khakis as they are not meant to be dressed up too much.