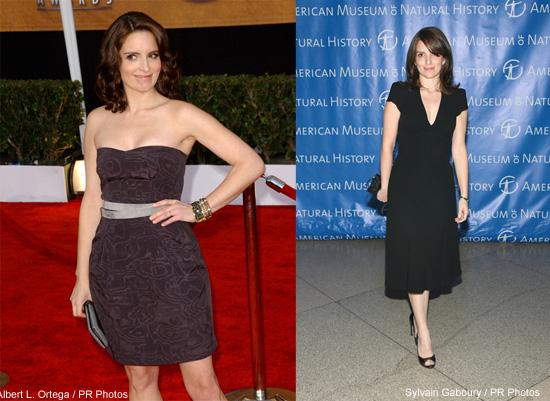 Tina Fey is the reigning leading lady of comedy. She has a unique sense of humor that we see in all her writing, producing and acting endeavors. From her beginnings on Saturday Night Live to her own TV shows and movies, she is in a category of her own as a women comedienne. As a writer, actress and producer, Tina Fey has become one of the most recognizable celebrities around, due to her successes.
One of the trademark things about Tina Fey's look is her glasses. In fact, vice-presidential candidate Sarah Palin received comments about her Tina Fey glasses, during the 2008 campaign. If you are looking to dress like the award-winning Tina Fey, the first thing you should get is a pair of glasses in that unmistakable Tina Fey style. If you are attempting a dressy Tina Fey look instead of an everyday one, choose contacts instead.
Tina Fey's fashion style is very underdone compared to many other celebrities. She tends to dress in rather normal clothes and styles, which makes it easy for most anyone to pull off a Tina Fey look. Jeans and a T-shirt are a common ensemble for her. Is it important to note that she almost always wears a shirt with a flattering, low-cut neckline. To create a true Tina Fey look, opt for dark shirts with a V-neck, scoop neck or princess neckline. Fitted jeans are a must too for her casual look.
The colors she favors are typically dark. She often opts for black tops and dresses, although has also been seen in dark shades of other rich tones like purple, green and brown. She wears jewelry rather sparingly; saving conservative pieces for dressy occasions, though often opts for dangling earrings. She always carries a tiny matching clutch bag with her dressy outfits.
Whether you are looking to pull off a daytime or an evening Tina Fey look, one thing to bear in mind is that her clothes always show off her curves to their best advantage. To successfully dress like her, you will need to invest in items that are form fitting. If your form is not as fit as you'd like, you may want to invest some time in shaping up prior to donning such styles.
Another touch needed for a true Tina Fey look is the hair. Her do is never highlighted blonde, it always a rich chocolate tone. She favors shoulder-length and slightly longer styles. Bangs and a wispy fringed look make her straight hair appear often slightly tousled, which is a great look for her and an easy one to imitate. For special events, she occasionally wears her hair curly for a slightly different look. Keep makeup minimal too in true Tina fashion, with an emphasis on the eyes.
Tina Fey, one of the hottest celebrities around today, has an easy look to mimic. Her girl-next-door looks and style make for an affordable look to recreate for anyone who is determined to be a star.