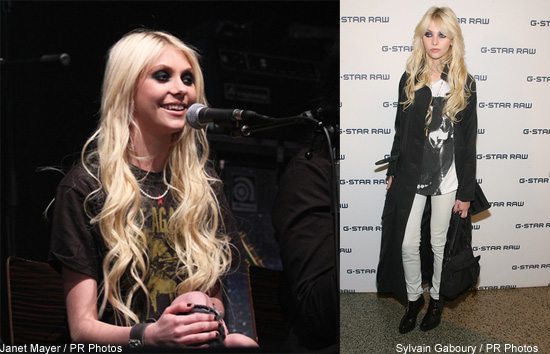 One of the most popular new shows on television today is the show Gossip Girl. Of all the characters on the show, one of the more popular is Jenny Humphrey who is played by Taylor Momsen. At 16 years old she is quickly becoming one of the most envied young women on television today.  For this reason there are now many younger teens that want to look like her.
Momsen has a very contemporary look and is usually dressed to the nines no matter where she goes. Here are some different ways in which you too can look like this future diva:
•    Short dresses: Momsen like to wear a lot of short dresses. These dresses are on the loose fitting side and tend to even poof out just a bit. As far as coverage goes she tends to go with the ones that cover less rather than more. Be sure that you choose dresses that don't go down any further than the top of your knees. When choosing your colors go light and bright and stick to yellows, beiges, and white.
•    Artistic look: Momsen often looks like a true artist when she is just out walking around. To accomplish this you need to go with darker colors and wear a typical artistic outfit like Momsen does. Start with a pair of dark tights and then wear a white shirt and top it all off with a black leather jacket. Don't forget to wear the sunglasses that look like bug eyes with this look.
•    Accessories: You have a lot to choose from in this department as Momsen likes to accessorize her stuff. A favorite accessory of hers is a scarf and she makes it look great no matter what she has on. When picking out your scarves be sure that they contrast in color with whatever it is you are wearing. You can also go with any number of different purses to tie in an outfit as Momsen likes them all. As far as jewelry goes, Momsen likes to wear a good amount of colored bracelets, hanging necklaces, and earrings that hang somewhat low.
•    Hair and make-up: At times Momsen's hair is prim and proper and to get this look you need only part to one side and use your body enhancing products sparingly. Still there are other times where the young star has a serious case of bed head, though it is always intentional. To get that bed head look just towel dry your hair before you go to sleep and in the morning you will be all set. When applying your make-up go with dark red coloring for your lips and be sure to use a lot of darker colors around your eyes. Plan on spending some time in front of the maker-up mirror as Momsen may be a teenager, but she wears enough make-up to pass for someone ten years older.
Pulling off this contemporary look isn't always easy, but if done in the proper manner you will have more than one guy checking you out as you walk down the street.