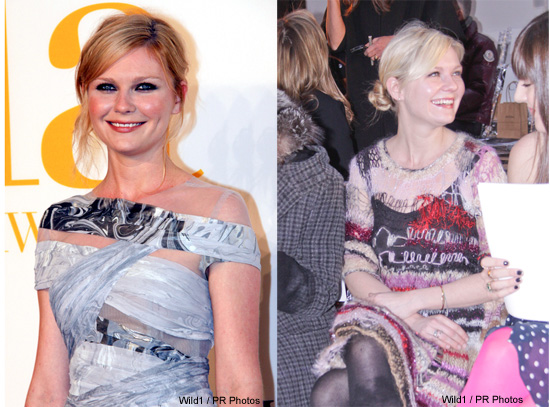 Ever since her role as Claudia in Interview with a Vampire, Kristen Dunst has been blazing a trail in the movies that eventually lead all the way to becoming Spider Man's girlfriend. She is a brilliant actress but has found herself on both sides of the fashion fence being on many Hollywood best dressed lists as well as many worst dressed lists. Her style of dressing is an achievable one if you are not afraid to let your awkward side show now and then.
Dunst may be quirky at times, but she also has the ability to dress to impress when hitting the red carpet. Here are some tips to get you a bit closer to the Dunst look:
•    Dark Colors: Dunst is often dressed from head to toe in all black. She can be spotted in black pants with a nice black shirt or even a black dress. When choosing your black garments go for form fitting but don't go too tight. For shoes you can go with anything black.

•    Ultra casual: At times you can catch Dunst wearing what most of America wears. It is not uncommon to see her strolling down the street in blue jeans, a t-shirt and a baseball cap. Try to match the cap to the shirt and make sure that the jeans are a loose fit; the main thing with this look is to be comfortable. Dunst tends to look very frumpy when she is just out and about so you shouldn't feel like you have to be dressed to impress to be able to pull off this look. For shoes here you can simply go with a nice cozy pair of sneakers.

•    Go formal and flowing: When Dunst hits the red carpet she is almost always wearing a long and flowing gown made of light weight materials. Go with a darker color here as Dunst shows up in anything from gold to beige to black. Your shoes should be high heels that match your dress color and your accessories should consist of little more than a bracelet, necklace, and some modest earrings.

•    Accessories: Dunst loves to carry designer hand bags. If you can't afford designer go with a close looking knock off and feel free to go either big or small as Dunst has done both. Dunst like to be creative when she accessories so go wild here. She has been seen in flapper style head bands, scarves, and even suspenders.

•    Hair and make-up: Dunst obviously does her hair and make-up when she is on the red carpet, but her make-up is always on the lighter side and she comes off looking very natural. Her hair is usually left down and done in a very simplistic way. If you want to pull off the hair look totally, wear it down, sweep it to the side and get a barrette to finish off the look.
Now just flash a smile as nice as Dunst's and you will be ready to set the world on fire dressed like Kristen Dunst.