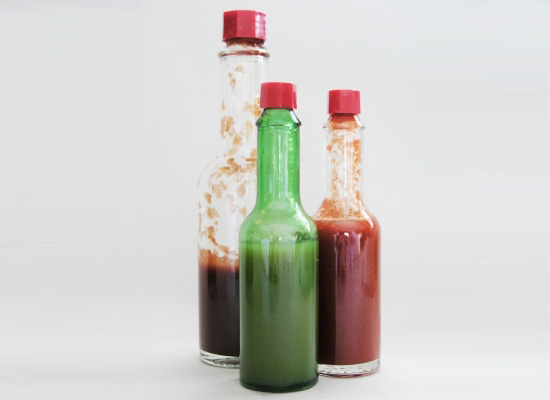 Nothing ruins the flavor of a great basket of hot wings quite like a giant splatter of hot sauce dripping down your white t-shirt. When this happens, it's helpful to know a little about the ingredients in hot sauce and how to remove hot sauce stains.
There are countless recipes for hot sauce, with different variations found around the globe. Mexico, the United States, the West Indies, China, Thailand, Vietnam and Japan all feature unique versions of this distinctive sauce, among others. The primary ingredient in hot sauce is chili peppers. The peppers can be soaked in anything from vinegar, oil and alcohol to fruits and vegetable pulps. Other ingredients are often included to add flavor and/or heat, such as garlic or mustards.
Hot sauces vary in heat according to the types of peppers used in them. Jalapeño sauces are usually the mildest available, followed by sauces made from cayenne and red chilies. Sauces made with Tabasco peppers (such as the famous Tabasco® sauce) are hotter than jalapeño and cayenne sauces. Unlike some other hot sauces, Tabasco brand sauce is aged in casks before bottling, similar to wine. Habanero sauces rank among the fieriest, and are to be used with caution unless you're a hot sauce veteran.
The staining ability of hot sauce is greatly affected by the recipe, particularly when ingredients such as tomatoes or carrots are added. Most Mexican-style hot sauces focus on the flavor of the pepper, so there is very little vinegar or other ingredients. In the United States, the primary ingredients of hot sauce are chili peppers, vinegar and salt. Some milder sauces also include tomato sauce to dilute the heat of the peppers. Asian chili sauces are more of a thick paste, or they are made by infusing the peppers in oil or brine.
Because peppers are organic and water-based, hot sauce stains should be removed the same way you would handle any tomato or red sauce stain. First, remove the shirt and run it under very hot water for several minutes. This will flush away most, if not all, of the stain. If a stain is still visible after several minutes of flushing, try rubbing it with a bit of dish soap or liquid laundry detergent, then let the stain soak for a half-hour. Follow with hot water flush. Repeat until the stain is gone, then run the shirt through your usual laundry cycle.
If the hot sauce ingredients include oil, it is also a good idea to soak the stain in a laundry treatment such as Shout or Oxyclean prior to washing to dissolve the oil. Never run stained clothing through the dryer as this will cook the stain into the fabric, making it nearly impossible to remove.